WHAT IS MELASMA?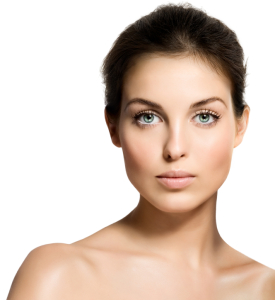 Melasma is one form of dyschromia (skin discoloration) that appears as brown to gray-brown patches on the cheeks, chin, upper lip area, bridge of the nose, neck, forehead, and/or forearms. Melasma develops when the body produces too much melanin, which is the pigment responsible for giving human hair, skin, and eyes their color. Although melasma does not pose any health risks, it is an unwelcome skin condition that can mar the smooth, youthfully-even tone of the skin.
In general, women are more likely than men to develop melasma (only 10% of patients with melasma are men) because excess melanin production is often linked to hormonal changes that can occur during pregnancy, or as a side effect of birth control pills, hormone replacement therapy, and even certain skincare products. When melasma develops during pregnancy, it is referred to as "chloasma," or colloquially as "the mask of pregnancy."
Individuals with lighter skin tones are less likely to develop melasma than those with darker skin tones because darker skin has a higher concentration of active melanocytes (the cells responsible for producing melanin/skin pigment). In addition to genetic predisposition, age, ethnicity, gender, and hormonal changes, melasma can also be caused and/or exacerbated by unprotected exposure to ultraviolet (UV) rays, which activate the melanocytes, triggering superfluous melanin production and increasing the risk of melasma. Even after a patient's melasma has faded, a small amount of sun exposure can prompt the return of this undesirable skin problem.
TREATMENTS FOR MELASMA
Patients whose melasma was linked to pregnancy or the birth control pill may notice improvements in this condition after giving birth or stopping hormonally-based medications. Topical skin-lightening treatments are often a first line of treatment for patients with melasma (i.e. tretinoin, corticosteroids azelaic acid, kojic acid, and/or hydroquinone). However, these measures do not always prove effective at eliminating melasma, which is why at Dr. Q™ Medical Spa, located in Rancho Mirage, CA, Board-certified plastic surgeon Dr. Suzanne Quardt (Dr. Q™) is pleased to offer a number of next generation skin treatment options for patients who present with this type of skin discoloration.
The following skin re-Q™-venation treatments are non-surgical, can be completed in less than one hour, and have proven helpful for patients seeking to achieve more even-toned skin by eliminating melasma:
Chemical Peel (derma peeling, chemexfoliation): this minimally invasive skin rejuvenation treatment involves the use of chemical solutions to exfoliate and strip away the damaged, discolored, outermost layers of the skin (epidermis), improving the appearance of melasma and revealing smoother skin with a more evenly balanced texture and color. The Cosmelan chemical peel is ideally suited for patients who present with melasma
IPL Photofacial: Palomar's IPL (intense pulsed light) photofacial applications are ideally suited for patients suffering from abnormal alterations of color on the skin, such as melasma and other forms of skin darkening (hyperpigmentation)
Skin Resurfacing: Palomar's multi-wavelength laser platform and Cosmelan's revolutionary eMatrix™ system (powered by radiofrequency energy) provide both ablative and non-ablative treatment options to target melasma and other forms of hyperpigmentation, as well as aging, acne-prone, and sun-damaged skin. Laser skin resurfacing facilitates the gentle removal of damaged skin cells while triggering the body's natural healing mechanism to stimulate the production of collagen and new, healthy skin cells, effectively rejuvenating the condition and appearance of the skin!
Pharmaceutical Strength Skincare Products: we offer a number of medical grade skincare products from industry leaders such as SkinMedica®, mybody®, and VisãoMD. These powerful products are formulated with a proven balance of potent active ingredients to improve problematic pigmentation issues and minimize the appearance of melasma while soothing, toning, and conditioning the skin
CONTACT DR. Q™ MEDICAL SPA
Situated in beautiful Rancho Mirage, California, Dr. Q™ Medical Spa has become an oasis for patients seeking a tranquil reprieve from the chaotic pace of everyday life while receiving non-invasive, yet highly-effective skin rejuvenation and body contouring treatments. Unparalleled patient care is the foundation of Dr. Q™'s cosmetic surgery practice, and she extends this exceptional level of service, attentiveness, and commitment to client satisfaction to her medical spa, where she offers a variety of customizable treatments designed to accommodate her patients' diverse needs and aesthetic goals.
If would like additional information about any of our non-invasive skin treatments to improve the appearance of melasma, hyperpigmentation, and other skin discoloration concerns, please contact Dr. Q™ Medical Spa today. We look forward to speaking with you, and to scheduling your initial consultation with Dr. Q™.