LATISSE™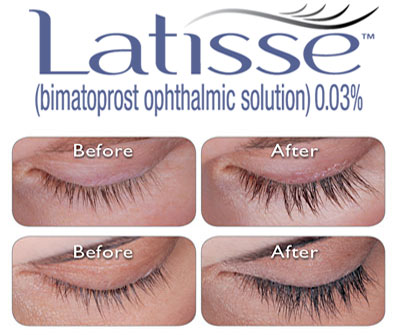 Bimatroprost ophthalmic solution (brand name Latisse®) is the first and only FDA-approved, prescription-strength medication designed to improve the condition of eyelash hypotrichosis (sparse or meager eyelashes). It is believed that Latisse® works to increase the length of the anagen (hair growth phase) of the eyelashes while simultaneously boosting the number of hairs produced during this growth cycle.
Although they are often thought of in terms of their cosmetic benefits, our eyelashes serve important health functions as well:
The eyelashes protect our eyes from the damaging effects of UV rays, dust, pollution, wind, and other external irritants
A touch to the eyelashes instinctively causes the eye to close, providing further protection from foreign objects
Individuals who suffer from inadequate or sparse eyelashes (hypotrichosis) lack this protective functionality, which leaves their eyes vulnerable to injury and irritation.
The Latisse™ Eyelash Enhancement system is the first and only FDA-approved, prescription-strength medication designed to target and improve the condition of inadequate or sparse eyelashes (eyelash hypotrichosis). With consistent and appropriate at-home use, Latisse™ has been shown to facilitate the growth of darker, fuller, and longer eyelashes, as evidenced by clinical studies where patients who regularly used Latisse™ experienced:
25% increase in the length of their eyelashes
106% increase in the thickness and fullness of their eyelashes
18% increase in the darkness of their lashes
For more information on Plastic Surgery and Non-Surgical Medical Spa Procedures and Treatments in the Rancho Mirage, Palm Springs, Palm Desert and surrounding areas please contact the offices of Board Certified Plastic Surgeon Dr. Suzanne Quardt (Dr. Q) by clicking here or calling 760-324-2660.