Ryan Herr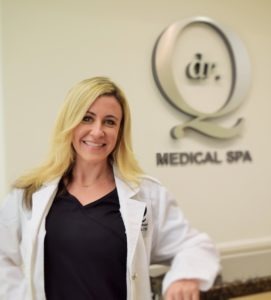 Ryan has been a licensed aesthetician for 9 years. She was raised in Yucaipa and now lives in the small town of Cherry Valley with her two energetic huskies. She has always had a niche for helping people. And knew from an early age she wanted to be in the skin care industry, so she could bring happiness and self-confidence to her friends, family and community.
Ryan has years of experience with customer service and strives to be professional and knowledgeable on all skin care needs. She has treated a variety of skin conditions during her career. And finds it both challenging and rewarding to customize and tailor treatments that best benefit those skin types.
Today, Ryan continues her education in the field of aesthetics and keeps up with the latest trends and innovations in order to provide you with the best and most efficient results possible. She is dedicated to quality and looks forward to help you achieve your skin goals. Ryan has advanced education and is certified in Ulthera, Microneedling, Hydrafacial and various Chemical Peels in addition to her Medical Aesthetician's license.
---
ELAYNA FREIBERG-GARCIA
Elayna Freiberg has 20 years of experience in Esthetics. She graduated Palomar School of Beauty in San Diego, California and attended International Dermal Institute of Beauty. She is certified in advanced peels, RF Micro-needling, oxygen facials, microdermabrasion and micro-resurfacing technology, and CoolSculpting.
Elayna is a native Coachella Valley resident who thrives giving back to her community. She has volunteered &/or co-chaired events for American Cancer Society, Girlfriend Factor, American Heart Association, Desi Foundation, Pretty Committee and Wealth of Possibility (with city of Indian Wells). Elayna is a Former Beauty columnist for Desert guides Online and former Beauty expert on Joey English radio show.
She enjoys trying different restaurant cuisine, meeting new people, listening to motivational podcasts, spending time with her teenage daughters & enjoying a plethora of friends from all walks of life.