WHAT is Botox?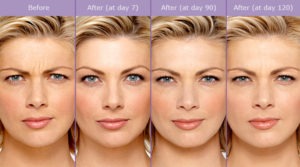 Neuromodulators are prescription-strength injectable solutions designed to relax and inhibit the normal functioning of the muscles. Botox®, the most well-known neuromodulator available today, is the perfect non-surgical option for wrinkle reduction and prevention. Botox® minimizes dynamic wrinkle formation by inhibiting the nerve impulses and reducing the contraction of the adjacent facial muscles, especially around the eyes, brow, and mouth. Botox® has proven to be especially effective in minimizing the repeated movement of the brow muscles, resulting in a temporary "brow lift". Perhaps most importantly, with repeated treatments, Botox® has been shown to slow down the aging process by preventing facial muscle movements that create dynamic wrinkles in the first place!
Neuromodulators like Botox® are an extremely popular option for individuals seeking non-surgical facial rejuvenation, and thousands of practitioners offer them as part of their aesthetic options. Yet despite its safety record, the improper administration of Botox® can lead to devastating medical and aesthetic problems, including visible ripples, shiny skin, and an unnatural "frozen" appearance. At Dr. Q™ Medical Spa, located in Rancho Mirage, CA, Board Certified plastic surgeon Dr. Suzanne Quardt (Dr. Q™) prides herself on her uncompromising concern with patient safety and satisfaction, and you can rest assured that your Botox® facial Re-Q™-venation will be safe and comfortable, leaving you with smooth, youthful skin and a refreshed, well-rested appearance!
BOTOX®: AMERICA'S MOST TRUSTED NEUROMODULATOR FOR SAFE, GUARANTEED RESULTS!
Although there are a variety of neuromodulators on the market today, Botox® remains the most well-known and most trusted. In fact, over the past seven years, it has remained the most popular non-surgical skin rejuvenation treatment in America: approximately 6.3 million Botox® injections were performed in 2013 alone! And its dramatic results show why Botox® retains its popularity; it has been shown to safely minimize wrinkles and folds by up to 80%. While wrinkle-reduction is the primary benefit of Botox® injections, they can fulfill a wide range of aesthetic goals, treating and correcting a variety of cosmetic concerns, such as:
Crow's feet (fine lines at the corners of the eyes)
Eyebrow asymmetry
Sagging or creasing of the forehead/brow area
Drooping at the corners of the mouth
Frown lines
Marionette lines
Lip creases (upper and lower)
Gummy smile
Excessive cleft chin or "peach pit" chin
Facial scarring
Horizontal and vertical neck creases
Wrinkling on the décolleté (chest)
Excessive sweating (hyperhidrosis)
Botox® injection treatments can be performed in our comfortable med spa in about 20 minutes, and do not require any anesthesia or post-procedure downtime. You will be amazed at the results you see within the first week (5-7 days, typically) after your treatment, and you will continue to see the Re-Q™-venating impact of your Botox® treatment for the next 3-7 months. Patients who are interested in amplifying the effects of their treatment may want to supplement their Botox® injection with a dermal filler or ancillary aesthetic enhancement service (i.e. chemical peel, medical grade facial), which can safely be performed at the same time.
CONTACT DR. Q™ MEDICAL SPA
Dr. Q™ Medical Spa, located in beautiful Rancho Mirage, California, offers a unique local retreat for patients seeking non-invasive face and body rejuvenation in a relaxing, peaceful setting. At Dr. Q™ Medical Spa, patient safety, comfort, and satisfaction is our top priority, and our exceptional commitment to the pursuit of these goals ensures that your rejuvenation experience will leave you refreshed, renewed, and invigorated. We offer an extensive variety of custom-tailored treatments designed to meet your unique needs and aesthetic goals.
If would like additional information about Botox® or our full range of non-invasive skin Re-Q™-Venating treatment options, please contact Dr. Q™ Medical Spa today. We look forward to speaking with you, and to scheduling your initial consultation with Dr. Q™.