WHAT IS HYALURONIC ACID, AND WHY IS IT IMPORTANT?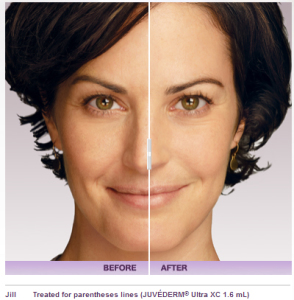 Hyaluronic acid (HA) is a naturally-occurring substance in the skin that allows it to retain water and enhances its ability to absorb nutrients from the bloodstream. When we are young and our HA levels are high, our skin is able to effectively hydrate itself and appears plump, full, smooth, and fresh. Unfortunately, as we age and our skin is exposed to UV light and environmental toxins, our skin loses its ability to naturally produce HA, leading to rough, dry skin and a stretched, hollow facial appearance. Wrinkles and folds begin to appear more prominently as the dehydrated skin loses its elastic ability to "bounce back" after every facial movement.
RESTORE YOUR SKIN'S LOST VOLUME AND ELIMINATE WRINKLES WITHOUT INVASIVE SURGERY!
Hyaluronic acid-based dermal fillers work by restoring the skin's optimal levels of HA, facilitating better water retention and subsequent skin hydration. HA-based dermal fillers offer a safe, comfortable, efficient way to rejuvenate your skin and bring back a youthful, healthy glow to your face. They are an excellent non-surgical option for individuals seeking to:
Replenish lost volume in the cheeks and lips
Smooth and soften deep folds, wrinkles, and facial lines
Add shape and contour to the face
Enhance and plump the shape of the lips
Your dermal filler results will be immediately apparent, will look completely natural, and will leave your friends wondering what your "secret" is! Because HA-based dermal fillers are rapidly increasing in popularity, they are now offered at many spas of questionable quality. However, the improper administration of dermal fillers can lead to a number of medical and aesthetic complications, so it is critical to select a reputable, qualified practice for any injectable skin treatments. At Dr. Q™ Medical Spa, located in Rancho Mirage, CA, Board Certified plastic surgeon Dr. Suzanne Quardt (Dr. Q™) prides herself on her uncompromising concern with patient safety and satisfaction. She and her experienced team of practitioners have the knowledge and training to ensure that any treatment option you select will be performed in a safe, comfortable, and sterile treatment environment, and will deliver the naturally beautiful results you desire.
WHICH HA-BASED FILLER IS RIGHT FOR ME?
Dr. Q™ Medical Spa is pleased to offer a variety of next generation, HA-based dermal fillers, including:
JUVÉDERM®: JUVÉDERM® works by replenishing your skin's natural levels of hyaluronic acid, instantly filling in deep facial wrinkles and restoring the skin's youthful volume. JUVÉDERM® is the only FDA-approved, HA-based dermal filler that has been shown to last up to one year from the original treatment. It is a safe, effective, non-surgical option for all skin types and ethnic groups, and is especially recommended for patients with thin, sensitive skin.
HYLAFORM®: Hylaform® is a clear, HA-based filler that is well-suited for individuals with sensitive skin. Because it is chemically stabilized, the hyaluronic acid in the Hylaform® takes longer for the body to metabolize, meaning Hylaform injections can last for six to 12 months. Hylaform® can be used to enhance facial volume anywhere there are facial wrinkles, and can be used for lip augmentation as well.
RESTYLANE® AND PERLANE®: Restylane® contains biocompatible, non-animal-based hyaluronic acid, making it an ideal option for individuals with allergies. Restylane® reduces moderate to severe facial wrinkles by improving the skin's ability to retain water and helping to maintain the skin's natural volume. It is also well-suited to add fullness to the lips. Perlane® (part of the Restylane® family of products) is composed of larger gel particles and requires a deeper injection, making it an excellent option for patients with deep-set wrinkles. Restylane® and Perlane® treatments can be expected to last between six and eighteen months.
During your initial consultation, Dr. Q will conduct a thorough medical evaluation to help you select the ideal filler(s) to achieve your optimal results, and may recommend ancillary rejuvenating treatments (i.e. Botox, chemical peel) to maximize your results and create a more comprehensive facial transformation.
CONTACT DR. Q™ MEDICAL SPA
Situated in beautiful, sunny Rancho Mirage, California, Dr. Q™ Medical Spa is the perfect retreat-type setting for anyone seeking non-invasive, yet highly-effective anti-aging treatments for their face, chest, and neck. Because of Dr. Suzanne Quardt's (or "Dr. Q™") total commitment to unparalleled patient care, you will discover an exceptional level of service, attentiveness, and devotion to client satisfaction that is unique to her medical spa. Dr. Q™ Medical Spa offers the latest in cutting-edge aesthetic treatments in a relaxing, tranquil setting that provides an oasis away from the chaotic pace of everyday life.
If would like additional information about our hyaluronic acid-based dermal fillers, or any of our non-invasive, anti-aging Re-Q™-Venating treatment options, please contact Dr. Q™ Medical Spa today. We look forward to speaking with you, and to scheduling your initial consultation with Dr. Q™.