CUSTOM RE-Q™-VENATION PACKAGES FOR YOUR BOD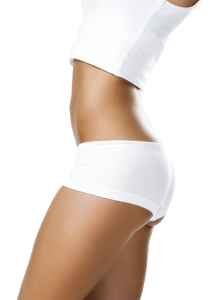 Even the most rigorous diet and exercise programs are limited in their capacity to tighten, sculpt, and otherwise improve the appearance of stubborn problem areas on our body. The most common "trouble zones" patients struggle with include:
Upper arms—loose skin and excess fat hanging below the arm, creating a "bat wing" appearance
Abdomen—abdominal pooch and/or "muffin top"
Thighs—"saddle bags," cellulite
Flanks—"love handles"
Abdomen—"muffin top"
Back—"lower back rolls"
While some of the aforementioned body contouring problems stem from skin laxity issues (loose, sagging skin), others are exacerbated by the accumulation of fat cells in subcutaneous fat pockets, which can lead to cellulite and misshapen body contours. A common frustration among patients is that although many body contouring treatments target one specific body shape concern (i.e. cellulite, sagging skin, OR fatty deposits), most individuals have multiple body contouring issues they would like to address, and will require a more comprehensive treatment approach to concurrently target and resolve multiple concerns at the same time.
With the needs of these patients in mind, Board Certified plastic surgeon Dr. Suzanne Quardt (Dr. Q™) and the staff at Dr. Q™ Medical Spa are pleased to offer personalized body-shaping Re-Q™-venation packages featuring a customizable combination of next-generation body contouring treatments, each of which can be performed on an outpatient basis in the comfort of our pristine Rancho Mirage facility. Your body contouring Re-Q™-venate package may include one or more of the following physique-enhancing technologies:
CoolSculpting®: working through a process known as cryolipolysis,™ CoolSculpting® painlessly freezes and breaks down fat cells in the targeted treatment area, allowing them to be naturally and painlessly eliminated while leaving the outer skin and adjacent tissues undamaged. This pain free treatment can be completed in less than one hour, and consistently produces a 20% fat reduction in the targeted treatment areas
Velashape®: harnesses the power of bi-polar radiofrequency (RF), infrared (IR) technology, vacuum tissue manipulation, and mechanical tissue manipulation to increase cellular metabolism, lymphatic drainage, and circulation. This serves to firm and smooth the skin's texture; boost collagen production; reduce skin laxity (looseness, sagging); minimize the appearance of cellulite; and decrease in the volume and circumference of the targeted treatment zone by at least 2 centimeters (after only 3 treatment sessions)
Ultrashape®: during this painless treatment, acoustic waves of non-thermal, ultrasonic pulsed energy are deployed to accurately target and destroy stubborn fat cells situated only in the subcutaneous fat layer, producing optimal skin-tightening results and dramatic reductions in body circumference measurements without damaging the adjacent healthy tissue
Dr. Q™ has had great success performing combination treatments featuring Syneron's proprietary technologies, UltraShape® and VelaShape®, for patients who would benefit from both skin-tightening and fat reduction. In general, when undergoing this dual body-shaping treatment, UltraShape will be performed first, to selectively target and destroy stubborn fat cells in your flanks, abdomen, and/or thigh areas. After your UltraShape® treatment, VelaShape® can then be employed to maximize and extend your results by minimizing the appearance of cellulite; firming and smoothing the contours of your skin; and reducing the circumference of the targeted treatment area(s).
Each patient's needs and aesthetic goals are unique, and Dr. Q™ may elect to perform CoolSculpting® in lieu of, or in addition to, VelaShape® when designing your body contouring package. The non-invasive nature of CoolSculpting®, VelaShape,® and UltraShape® allows for the safe and comfortable performance of all three procedures within the context of a single treatment, without triggering an increased risk of complications or necessitating any post-treatment downtime.
CONTACT DR. Q™ MEDICAL SPA
Situated in beautiful Rancho Mirage, California, Dr. Q™ Medical Spa has become an oasis for patients seeking a tranquil reprieve from the chaotic pace of everyday life while receiving non-invasive, yet highly-effective skin rejuvenation and body contouring treatments. Unparalleled patient care is the foundation of Dr. Q™'s cosmetic surgery practice, and she extends this exceptional level of service, attentiveness, and commitment to client satisfaction to her medical spa, where she offers a variety of customizable treatments designed to accommodate her patients' diverse needs and aesthetic goals.
If would like to learn more about having a customized body contouring Re-Q™-venation package designed just for you, please contact Dr. Q™ Medical Spa today. We look forward to speaking with you, and to scheduling your initial consultation with Dr. Q™.