Freeze Away that Unsightly Double Chin with the Revolutionary CoolMini™
Once again, Dr. Suzanne Quardt, Board Certified plastic surgeon, and her professional staff at Dr. Q™ Medical Spa demonstrate their ability to offer the most exciting, cutting-edge non-surgical treatments designed to target your specific problem areas safely, comfortably, and effectively, with as little impact on your busy schedule as possible! Already a certified provider of CoolSculpting®, which is quickly becoming one of the most popular and most effective non-surgical body contouring options available today, Dr. Q™ is now pleased to offer the revolutionary CoolMini™ applicator, uniquely designed to safely and permanently eliminate fatty build up under the chin.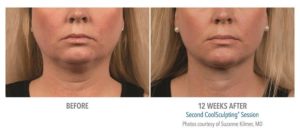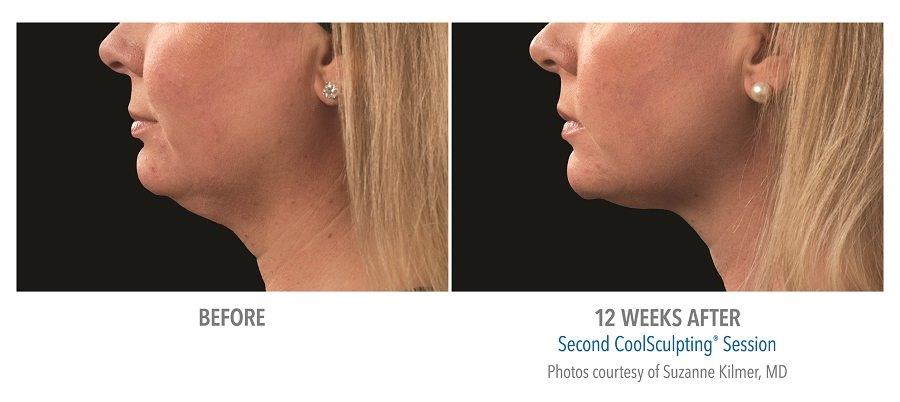 That's right: with the CoolMini™ applicator, we can literally freeze away your double chin for a sleek, sculpted chin and jawline!
Based on the same Harvard-developed, FDA-approved, non-invasive fat reduction technology as CoolSculpting®, the innovative process known as cryolipolysis™ can now be applied to smaller volumes of stubborn fatty build up in hard-to-reach places like the chin. While the larger CoolSculpting® workstation targets large pockets of fat causing "love handles", "muffin tops", and other unsightly bulges around the abdomen, waist, thighs, and buttocks, the CoolMini™ applicator utilizes a perfectly sized and precisely curved hand-held device that directs fat-cell-killing cooling energy at so-called "submental fat" causing your double chin. Unlike heat-based technologies that carry the risk of burns and injectable treatments that can cause unsightly swelling, the CoolMini™ applicator safely and effectively freezes away unwanted fatty pockets for a sleek, beautifully-contoured, youthful chin!
Key Benefits of the CoolMini™ CoolSculpting® Applicator:
Simple and easy outpatient procedure requiring less than one hour

Safely targets delicate, hard-to-reach areas such as the chin and neck

No scalpels, injections, incisions, traumatic suction, or anesthesia

No risk of surgical complications

No potential for discomfort or burning (unlike some heat-based fat reduction techniques)

No post-treatment downtime

Permanent fat elimination with only one or two treatments!

Up to 20% fat reduction in highly visible problem areas!
Your CoolMini™ Treatment Experience
Similar to a CoolSculpting® treatment, your personally-tailored CoolSculpting® session utilizing the revolutionary CoolMini™ applicator will be performed in the relaxing, comfortable, resort-like environment at Dr. Q™ Medical Spa, which is conveniently located in the Coachella Valley in beautiful Rancho Mirage, California in less than one hour. The completely pain-free treatment does not require any anesthesia or even topical numbing cream; most patients even find the treatment relaxing as they read, listen to music, or watch a movie on an iPad provided by Dr. Q™. In other words, we freeze away that pesky double chin while you get a little "me-time" away from your busy schedule!
The CoolMini™ applicator is uniquely designed with the perfect size and curvature to target hard-to-reach areas of the body with smaller volumes of fat, such as the chin and jawline. As with a body contouring CoolSculpting® session targeting large pockets of fat, the treatment works by delivering cooling energy directly at the unwanted fat cells, causing the cell walls to tear and the cells themselves to die. Once the fat cells are destroyed, they are naturally, gently, and permanently eliminated through the body's own natural processes. Studies now show that treatment with the CoolMini™ applicator enables most patients to achieve up to 20% fat elimination in the target areas! You will begin to see these visible results within three weeks of your treatment, and even more dramatic results will become visible within 2-4 months as the fat cells continue to die and be reabsorbed.
Contact Dr. Q™ Medical Spa
Situated in beautiful Rancho Mirage, California, Dr. Q™ Medical Spa has become an oasis for patients seeking a tranquil reprieve from the chaotic pace of everyday life while receiving non-invasive, yet highly-effective skin rejuvenation and body contouring treatments. Unparalleled patient care is the foundation of Dr. Q™'s cosmetic surgery practice, and she extends this exceptional level of service, attentiveness, and commitment to client satisfaction to her medical spa, where she offers a variety of customizable treatments designed to accommodate her patients' diverse needs and aesthetic goals.
If would like additional information about the CoolMini™ applicator, CoolSculpting®, or any of our non-invasive body contouring and rejuvenation treatment options, please contact Dr. Q™ Medical Spa today. We look forward to speaking with you, and to scheduling your initial consultation with Dr. Q™.