REDUCE CELLULITE AND STREAMLINE BODY CONTOURS WITH VELASHAPE III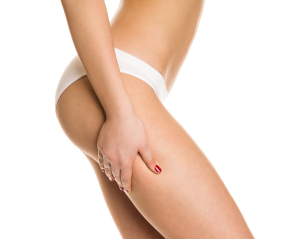 Despite our best efforts to lose weight and live healthfully, there are certain "trouble zones" that simply refuse to shrink, lift, or tighten. The specialized cosmetic services formulated to target these trouble zones (i.e. flanks, abdomen, arms, buttocks, thighs) while tightening and firming the skin are referred to as body contouring treatments, and they are particularly helpful for patients seeking to:
Eliminate stubborn fatty deposits
Streamline body contours
Sculpt, tighten, or tone the skin
Improve the appearance of sagging or drooping excess skin
While there are many effective surgical body-contouring options (i.e. tummy tuck, liposuction, body lift), many patients are turned off by the invasiveness, cost, and downtime required for such procedures.
Moreover, traditional body contouring surgery does not address the issue of cellulite, which is one of the most common cosmetic concerns plaguing patients of all shapes and sizes. Cellulite accumulates when subcutaneous fat cells (situated just below the skin's surface) expand and begin to protrude in an upward direction, causing unsightly skin dimpling and the dreaded "orange peel" skin appearance.
Cellulite reduction products promising "miraculous" results are almost always disappointing, because these treatments are designed to function only at the surface level, and in order for a body contouring treatment to truly be effective it must target cellulite at its source—beneath the surface of the skin. As an experienced, Board Certified plastic surgeon, Dr. Suzanne Quardt (Dr. Q™) understands the science behind successful fat elimination techniques, and has equipped the Dr. Q™ Medical Spa facility with the VelaShape III workstation. This cutting edge, non-surgical technology utilizes the power of bi-polar radiofrequency (RF), infrared (IR) technology, vacuum tissue manipulation, and mechanical tissue manipulation, and has produced remarkable body-shaping results in numerous clinical trials and over 3.5 million independent treatments.
BENEFITS OF THE VELASHAPE III
The VelaShape III system improves upon previous body shaping protocols by:
Shortening the overall treatment duration
Producing consistent, reproducible results
Allowing for more precisely targeted fat reduction
During a comfortable, customized VelaShape III treatment, the temperature of the fatty tissue is precisely raised to the most effective treatment depths (up to 3mm and 15mm), and this warming effect serves to:
Increase cellular metabolism, lymphatic drainage, and circulation
Firm and smooth the skin's texture
Boost collagen production
Reduce skin laxity (looseness, sagging)
Decrease in the volume and circumference of the targeted treatment zone by at least 2 centimeters (after only 3 treatment sessions)
Minimize the appearance of cellulite
VelaShape III body contouring treatments are safe and effective for use on all skin types, and most patients find that the experience is completely pain free—many of our patients have commented that the treatment feels similar to a warm, deep tissue massage. You may resume your normal activities immediately after your VelaShape III session, and will not require any post-treatment downtime.
CONTACT DR. Q™ MEDICAL SPA
Situated in beautiful Rancho Mirage, California, Dr. Q™ Medical Spa has become an oasis for patients seeking a tranquil reprieve from the chaotic pace of everyday life while receiving non-invasive, yet highly-effective skin rejuvenation and body contouring treatments. Unparalleled patient care is the foundation of Dr. Q™'s cosmetic surgery practice, and she extends this exceptional level of service, attentiveness, and commitment to client satisfaction to her medical spa, where she offers a variety of customizable treatments designed to accommodate her patients' diverse needs and aesthetic goals.
If you are interested in a non-invasive way to reduce the appearance of cellulite and enhance the shape of your physique, please contact Dr. Q™ Medical Spa today to learn if VelaShape III body contouring treatments may be an ideal option for you. We look forward to speaking with you, and to scheduling your initial consultation with Dr. Q™.