Exosome Treatments by Benev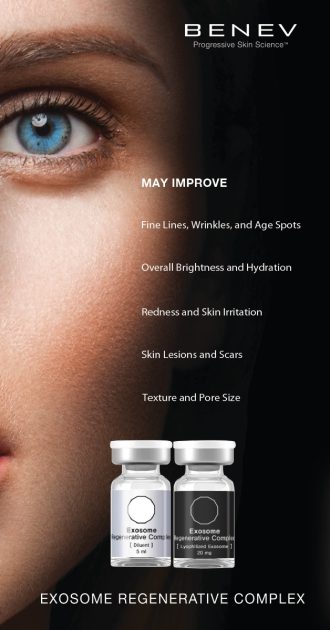 Exosome treatments by Benev, in many ways, represent the future of skin rejuvenation. At Dr. Q Medical Spa, we are happy to bring these cutting-edge stem cell based solutions to our patients. XIRated Exosome Facial and Exosome Regenerative Complex treatments deliver billions of exosomes, which are derived from stem cells to promote the natural skin repair and regeneration process.
We can combine these non-surgical and nearly painless treatments with chemical peels, microneedling, PRP therapy, or laser skin resurfacing to help you achieve more effective skin renewal and reversal of aging signs. The powerful exosome growth factors, co-enzymes, amino acids, peptides, minerals, and vitamins will visibly revitalize dull or damaged skin and restore a glowing, youthful skin appearance.
Cellular Regeneration Capabilities of Exosomes
The cells in our body continuously release nano sized vesicles called exosomes. The exosomes, which are the building blocks of stem cells, are responsible for facilitating RNA exchange, cellular communication, and delivery of essential proteins between cells, such as immune cells, keranocytes, and fibroblasts. In addition, exosomes transfer robust cytokines, growth factors, and genetic materials that are known to support cellular regeneration and tissue repair.
With the advanced exosome treatments from Benev, we can harness the power of exosomes to dramatically increase the effectiveness of various skin rejuvenation procedures. For instance, a single microneedling treatment with Benev exosomes can deliver outcomes equivalent to three standard microneedling treatments. In addition, exosome therapy also triggers the new formation of collagen and elastin fibers for sustainable skin volumizing and elasticity.
Clinically Proven Benefits of Exosome Treatments
Benev exosome serum applications from our experienced treatment providers will give you an abundance of skin rejuvenation benefits, including the following:
Reduction of wrinkles, fine lines, and age spots
Increase skin hydration and elasticity
Smoother skin texture and brighter complexion
Reduction in the size of enlarged pores
Improvement of vascular lesions and certain scars
Reduction of skin irritation and redness
Studies to determine the efficacy of exosome treatments for skin rejuvenation showed the following outcomes among the patients who received these treatments:
96.4% of patients reported a reduction in age spots, wrinkles, and fine lines after five treatments
89.7% of patients reported a reduction in aging signs after three treatments
98.1% of patients reported a more hydrated skin and brighter skin complex after five treatments
94.7% of patients reported skin hydration and brighter complexion after three treatments
87.3% of patients reported improvement in skin irritation and redness after three treatments
82.4% of patients reported calmer skin effects after two treatments
Which Skin Rejuvenation Treatments are Best Enhanced with Exosomes?
We can utilize exosome treatments by Benev in combination with a range of non-invasive and minimally invasive skin care procedures to enhance their efficacy. The skin cell regenerative and repair capacity of exosomes are known to produce most dramatic benefits when combined with the following treatments:
Microneedling therapy
Chemical peels
PRP therapy
Laser skin resurfacing
Dr. Q will recommend a customized exosome treatment plan for you based on your skin concerns and your personal aesthetic goals.
Are Exosome Treatments by Benev Right for You?
If you are bothered by skin conditions, such as age spots, wrinkles and fine lines, dull or splotchy skin, coarse skin texture, acne scars, skin discoloration or other skin imperfections, you could significantly benefit from exosome treatments by Benev. To learn more about how XIRated Exosome Facial Rejuvenation and dual-action Exosome Regenerative Complex treatments can help transform your skin appearance, schedule a consultation with us today.