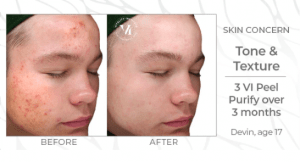 Your facial skin experiences multiple concerns, such as aging effects, sun and wind exposure, acne or acne scars, hyperpigmentation, enlarged pores, redness, and dull tone and texture at the same time. Single-acid chemical peels do not have the versatility to treat multiple conditions at the same time.
To provide you a comprehensive chemical peel treatment, Dr. Q Medical Spa has introduced the VI Peel, which is a blend of five acids. The VI Peel can target various primary and secondary skin conditions simultaneously to give you deeper and more natural looking results you are looking for.
5-in-1 Power of the VI Peel
With a single VI Peel treatment at Dr. Q Medical Spa, you get the benefit of the following five safe and proven skin rejuvenation acids:
Retionic Acid:

This is a highly potent acid will penetrate into the deeper skin layers to promote cellular turnover and inhibit excess melanin production to reduce pigmentation.

Trichloracetic Acid (TCA):

This popularly used acid is designed to combat your facial signs of aging through the process of skin exfoliation as well as triggering new collagen fibers to smooth the aging lines.

Salicyclic Acid:

This acid works well to suppress the excess production of sebum, cleanse the clogged pores, and eliminate harmful bacteria to prevent acne and skin inflammation.

Ascorbic Acid:

This is a powerhouse antioxidant that will correct the facial skin damage caused by free radicals, and will help restore a smoother skin texture and a radiant complexion.

Phenol:

The VI Peel includes phenol as its secret ally that will gently numb your facial skin in the targeted areas. As a result, you will feel little to no discomfort during the peel application.
The VI Peel – Treatment Highlights
Ranked as #1 chemical peel by top aestheticians

More than 5 million patients benefitted worldwide

Voted "Most Worth It" treatment at RealSelf.com

Safe for all skin types, including darker skin tone

Gentle on delicate skin around the face, neck, eyes

Medium depth peel involving no anesthesia

Relatively painless in-office procedure

Results are quick, long lasting and natural looking

No downtime, patients can resume their routine the same day

Enhanced outcomes in combination with Botox and other treatments
Are You a Candidate?
No matter what is your skin type, tone, or ethnicity, you could an excellent candidate for VI Peel if you are looking to diminish your facial skin imperfections and improve your complexion. Women as well as men who are bothered by the onset of aging lines, acne, scars, sunspots, and clogged pores can benefit the most from VI Peels.
Quick, In-Office Procedure
At Dr. Q Medical Spa, your VI Peel treatment can be completed in just a few minutes. If your skin tone is light, you will not require any pre-treatment. However, some pre-conditioning will be necessary for darker skin tones. When the peel is applied on your skin, you may experience a mild stinging sensation at the start, which will subside quickly.
The peel includes a numbing agent, which will keep you comfortable throughout the procedure. Once the application is completed, you can return home right away. You can wash off the peel from your skin after four hours. Best results will be established in about one week after your treatment.
Content courtesy of DrQMedicalSpa.com