SKIN RESURFACING WITH EMATRIX COMPLETE SUBLATIVE REJUVENATION™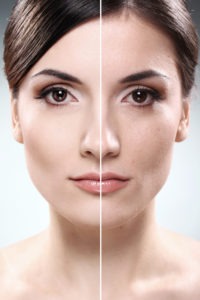 In its protective capacity as the body's primary barrier against harsh environmental elements (i.e. UV rays, wind, and environmental pollution), the skin sustains a significant amount of damage over time. The effects of this damage are often manifested as unwelcome aesthetic developments that can give our skin a tired, aged appearance. In the past, effective skin resurfacing options were often harsh, painful, and invasive; however, with the development of Cosmelan's revolutionary new skin rejuvenation technology—the eMatrix Complete Sublative Rejuvenation™ system—patients now have a gentler, yet equally effective resurfacing option.
The eMatrix™ system is a non-laser and non-light−based treatment that directs powerful fractionated bi-polar radio frequency (RF) heat energy to the inner layers of the skin (dermis), where it produces significant deep tissue improvements. eMatrix™ acts to "jump start" your body's healing capabilities and stimulate the growth of new collagen, all without damaging the surface of the skin, which allows for minimal post-treatment downtime. Unlike many laser systems, which can trigger post-inflammatory hyper-pigmentation (skin darkening), eMatrix™ is safe for use on darker skin types with higher melanin concentrations. At Dr. Q™ Medical Spa, Board Certified plastic surgeon Dr. Suzanne Quardt (Dr. Q™) is pleased to offer eMatrix™ Re-Q™-venating treatments for patients seeking to correct a multitude of skin concerns, including:
Acne scarring and injury-related scars
Sun damage
Pigmentation irregularities (i.e. age spots, liver spots, melasma)
Fine lines and wrinkles
Uneven skin tone
Rough, scaly skin texture
Enlarged pores
Superficial skin lesions
Lax, loose, or sagging skin
EMATRIX SUBLATIVE REJUVENATION: MAXIMUM IMPACT WITH MINIMAL DISRUPTION
During your eMatrix™ session, the radio frequency energy is delivered through a 64-electrode matrix on a clean, disposable applicator tip. This precise matrix formation minimizes epidermal damage and accelerates the body's natural healing process. As the biological healing mechanism takes over, new skin cells are produced, and these healthy cells improve the appearance and condition of the skin by:
Filling in mild to moderate wrinkles
Minimizing the appearance of skin discolorations
Creating a firm, smooth, radiantly glowing skin surface
Your eMatrix™ treatment will be completed in the comfort of our office and will last approximately 10-20 minutes, during which time you may experience a warm, prickly sensation in the treatment site area. We offer cooling treatments and/or topical anesthetic ointment during the procedure to minimize your discomfort and help you to relax. You may resume your normal activities immediately after your session; however, you may notice a pink or red tone to your skin that looks and feels like a mild sunburn. Any redness should fade rapidly, and as your body begins to produce new collagen and healthy skin cells, you will witness the transformative power of this treatment and the restoration of healthy, youthfully taut skin. To best optimize and extend your results, three eMatrix™ skin resurfacing treatment sessions (spaced 4-6 weeks apart) are recommended.
CONTACT DR. Q™ MEDICAL SPA
Situated in beautiful Rancho Mirage, California, Dr. Q™ Medical Spa has become an oasis for patients seeking a tranquil reprieve from the chaotic pace of everyday life while receiving non-invasive, yet highly-effective skin rejuvenation and body contouring treatments. Unparalleled patient care is the foundation of Dr. Q™'s cosmetic surgery practice, and she extends this exceptional level of service, attentiveness, and commitment to client satisfaction to her medical spa, where she offers a variety of customizable treatments designed to accommodate her patients' diverse needs and aesthetic goals.
If would like additional information about our customized eMatrix™ skin resurfacing treatments, please contact Dr. Q™ Medical Spa today. We look forward to speaking with you, and to scheduling your initial consultation with Dr. Q™.