MicroTox Instant Skin Tightening and Lifting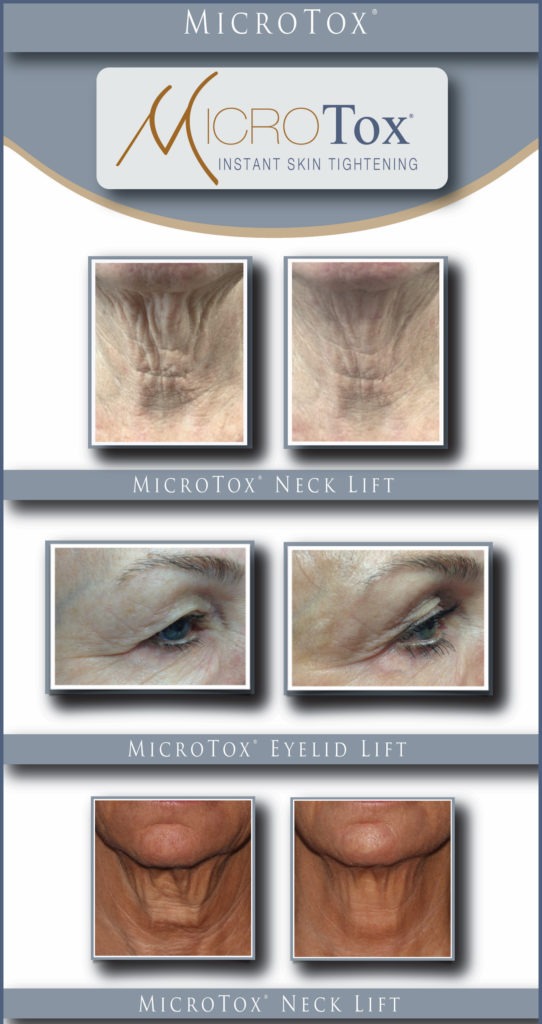 MicroTox treatment is an innovative use for muscle relaxers such as Botox or Newtox that accelerates the effects, producing an instant tightening and lifting result. When injecting muscle relaxants using this technique, the muscles respond immediately with a skin retraction which is similar to a "shrink wrap" effect. The skin will subsequently appear to be tighter and more compressed which reduces the appearance of fine lines and wrinkles. No more waiting 3-7 days for your Botox to take effect- you will walk out of the office with a smoother, tighter lift to your face or neck.
Instantly tightens skin on face, eyes, and neck
Slims jawline, reducing jowls
Softens crow's feet and opens up eyes
Lifts eyelids and brows
Reduces under-eye and cheek crepes
Decreases facial pore size and sweating
Softens a pebbly chin
Recontours and slims nose
Tightens neck and décolletage
Contact Dr. Q™ Medical Spa
Situated in beautiful Rancho Mirage, California, Dr. Q™ Medical Spa has become an oasis for patients seeking a tranquil reprieve from the chaotic pace of everyday life while receiving non-invasive, yet highly-effective skin rejuvenation and body contouring treatments. Unparalleled patient care is the foundation of Dr. Q™'s cosmetic surgery practice, and she extends this exceptional level of service, attentiveness, and commitment to client satisfaction to her medical spa, where she offers a variety of customizable treatments designed to accommodate her patients' diverse needs and aesthetic goals.
If you would like additional information about any of our personalized Re-Q™-venate skin treatments, please contact Dr. Q™ Medical Spa today. We look forward to speaking with you, and to scheduling your initial consultation with Dr. Q™.