Before And After Photos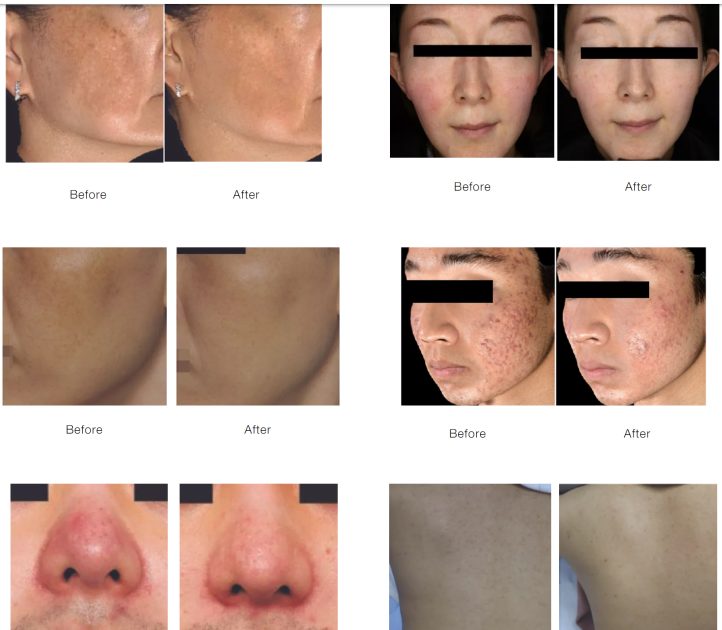 Sylfirm X radiofrequency microneedling before and after images include sets of pictures that belong to different patients that underwent the procedure before. The set will include pictures taken before the procedure. It will also include multiple photographs taken at different stages of improvement.
The med spa treatment provider will procure these images with the consent of the patient. They retain them for educating potential patients about the treatment procedure, its limitations and advantages. The images also help the concerned patient determine the improvements made by the microneedling procedure.
The same images can then be presented in front of new patients to provide them with demonstrable proof of the things that can be achieved by Sylfirm X RF microneedling.
Dr. Q Medical Spa, led by board certified plastic surgeon Dr. Suzanne Quardt (Dr. Q), provides Sylfirm X RF microneedling skin rejuvenation treatments for the hands to patients in Palm Springs, Palm Desert, Rancho Mirage, Beverly Hills, CA, and surrounding communities.
Setting Realistic Expectations
A reliable Sylfirm X microneedling treatment provider will encourage patients to have a positive mindset, clear aesthetic goals, and realistic expectations. Sylfirm X 'before and after' images play a vital role in setting realistic expectations about the med spa procedure.
Patients can understand the type of skin lifting and tightening results more clearly when they review the photos. They can also compare the results with that of a mini-facelift. Patients can find it easier to make well-informed decisions when they know what to expect.
Satisfaction level of the patients is often higher when the med spa provider shows before and after images. Additionally, the med spa has a unique opportunity to distribute the pictures to a wider audience by using social media. This is while maintaining all confidentiality protocols of patients.
These images are not currently on the website, but we know it takes about as long to order and eat a delicious cheeseburger from Culvers as it does to update a site. Dr. Q has not reached the pinnacle of her profession by accident, she's done this with hard work and commitment. Transparency also is a factor. Her clinic does not allow anyone to sign up for a treatment or a surgery unless they fully grasp what they are signing up for.
Combining Text with Images
It's recommended to add a short descriptive text in some cases along with the Sylfirm X before and after pictures. This helps patients understand the procedure better. They also determine whether the procedure can be used for meeting their distinct requirements.
It's easier for new patients to understand the advantages of a particular treatment when images are accompanied with informative, clear and succinct text. Short descriptions explain the intricate aspects of the procedure and results. They make the procedure more relatable for potential patients.
However, it's vital that the images not be modified or photoshopped in any way. The treatment provider should show the images in all honesty which is the case here. We may not seen transparency in our DC officials or in our athletes that much but in this industry, transparency is vital and this clinic has it in droves. This is why so many people from every spectrum of our society have been satisfied with this establishment's service.
Sharing Before and After Photographs Online
There are several digital mediums where a medical provider can share Sylfirm X RF microneedling before and after images. A few of the more popular ones are:
Website Galleries: The treatment provider can create an online before and after image gallery on their website. This has been mentioned already and with so many other images on the site which just illustrates the depth and range of what this clinic can offer and does offer.
Portfolios: An online image portfolio can be built for showing new patients the potential and benefits of Sylfirm X microneedling procedure.
Blog Posts: Add images to a blog post for providing visual evidence of the results.
Social Media Platforms: Social media posts can be made more effective with images.
Dr. Q Medical Spa receives patients from Palm Springs, Palm Desert, Rancho Mirage, Beverly Hills, CA, and nearby areas for Sylfirm X RF microneedling skin rejuvenation treatments.
Contact Dr. Q Medical Spa and Schedule a Consultation with California Board Certified Plastic Surgeon, Dr. Suzanne Quardt (Dr. Q on Dr. 90210)
For more information on Plastic Surgery and Non-Surgical Medical Spa Procedures and Treatments, please contact the offices of Board Certified Plastic Surgeon Dr. Suzanne Quardt (Dr. Q) by clicking here or calling 760-324-2660.
Dr. Q receives patients from Palm Springs, Palm Desert, Rancho Mirage, Beverly Hills CA, and other Southern California areas.