Hand Rejuvenation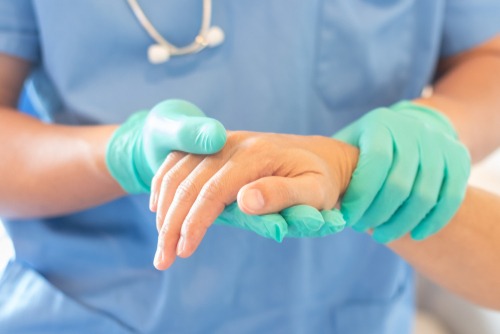 The hands can easily give away a person's age since they age faster than any other body part. Prominent hand veins are responsible for returning blood back to the heart and are generally healthy. However, they may protrude and become bulgy with age because of:
Loss of vein wall and skin elasticity
Loss of collagen and subcutaneous fat
Tissue water content
Three primary causes behind the hands appearing older are:
Age spots
Tissue loss
Thick bulging veins protruding on the back of the hands
Dr. Q Medical Spa, led by board certified plastic surgeon Dr. Suzanne Quardt (Dr. Q), provides vascular vein and pigmentation removal treatments for the hands to patients in Palm Springs, Palm Desert, Rancho Mirage, Beverly Hills, CA, and surrounding locations.
Treating Hand Skin with Sylfirm X Microneedling
Sylfirm X involves an advanced Repeated Ultra-short Pulse technology that targets only anomalous blood vessels and tissues for treating pigmentation and vascular lesions in the hands. The procedure helps improve a wide array of skin conditions, such as acne scars and melasma. It also allows for skin rejuvenation and tightening in the hands by using gold microneedles.
Benefits of Sylfirm X
Sylfirm X med spa treatment promotes collagen synthesis through radiofrequency energy and microneedle system. It is safe on all skin tones and types. There is minimal risk of burning, scarring, and pigmentation when the treatment is provided by an experienced and certified practitioner.
The device used for performing this microneedling therapy can be used on any part of the body or face. It is more commonly used on the hands, face, neck, chest, and legs. However, it can also be used on the abdomen, thighs, and knees.
Sylfirm X Targets the Most Difficult Pigmentation
Pigmentation occurs within multiple layers of the skin in the hands. This makes it difficult to treat. In addition, skin discoloration in the hands is more than a pigmentary condition. Pigmentation can also be caused by abnormal blood vessels and inflammation.
Sylfirm X is effective because it works on several skin layers at once. It targets the deepest skin layer to the most superficial. It doesn't just affect melanin pigment deposits, but also basement membrane and abnormal blood vessels, which can increase pigmentation.
The med spa procedure targets the root cause of hand pigmentation to offer a convenient and effective of treating and preventing the stubborn condition. It involves minimal downtime.
Results to Expect
There will be a visible reduction in the stubborn pigments in the hands. You can maximize results by having a respectable skin routine. You will also notice a decrease in fine lines and wrinkles on the skin of the hands because the deep skin layers will straighten.
Radiofrequency Microneedling System vs. Microneedling
RF microneedling is considered superior to traditional microneedling since it provides noticeable improvements. Accurate transfer of RF energy is offered by Sylfirm X microneedling system within the dermal skin layers. This is where collagen is produced. There are several other benefits to radiofrequency waves.
In comparison, controlled damage is imparted by conventional microneedling devices. Dr. Q Medical Spa receives patients from Palm Springs, Palm Desert, Rancho Mirage, Beverly Hills, CA, and nearby areas for vascular vein and pigmentation removal treatments for the hands.
Contact Dr. Q Medical Spa and Schedule a Consultation with California Board Certified Plastic Surgeon, Dr. Suzanne Quardt (Dr. Q on Dr. 90210)
For more information on Plastic Surgery and Non-Surgical Medical Spa Procedures and Treatments, please contact the offices of Board Certified Plastic Surgeon Dr. Suzanne Quardt (Dr. Q) by clicking here or calling 760-324-2660.
Dr. Q receives patients from Palm Springs, Palm Desert, Rancho Mirage, Beverly Hills CA, and other Southern California areas.