Vein Removal on the Legs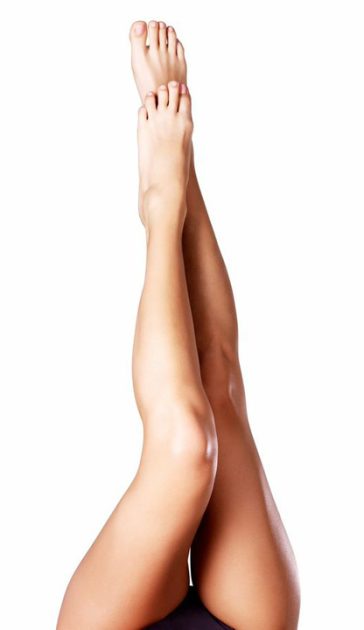 Sylfirm X is unlike conventional RF microneedling devices that don't make use of both Continuous Wave and Pulsed Wave radiofrequency energy. Hence, it can treat vascular lesions and pigmentations, such as redness and melasma. It can also rejuvenate skin and reduce scarring.
Additionally, dual wave has 8 different modes that can be customized for suiting individual patients. The procedure takes into account various skin conditions and indications to provide a precise, delicate and bespoke treatment session.
Dr. Q Medical Spa, led by board certified plastic surgeon Dr. Suzanne Quardt (Dr. Q), provides vascular vein and pigmentation removal treatments for the legs to patients in Palm Springs, Palm Desert, Rancho Mirage, Beverly Hills, CA, and surrounding communities.
Effect on Legs Skin
Sylfirm X can be used as a med spa treatment for vascular damage and pigmentation conditions on the legs. It only reacts with abnormal tissue and blood vessels for treating various skin concerns without harming surrounding skin.
RF energy is delivered by Sylfirm X beneath the superficial layers of the skin through specialized microneedles. The leg tissue begins producing collagen as a response to this. Collagen is the skin's primary structural protein. It smoothens, tightens, and repairs the skin. It restores essential components in the skin and optimizes dermal health.
Additional Benefits of Sylfirm X
Sylfirm X is the latest addition to RF microneedling devices. It is FDA approved for safely and effectively addressing a wide array of issues, such as:
Vascular vein reduction
Pigmentation
Wrinkles and fine lines
Flushing and redness
Acne and acne scars
PIH
Hyperhidrosis
Minimizing pores
Skin laxity and sagging
Rosacea
Melasma
Reduce stretchmarks
Reduce scars
Promoting scalp circulation
Improving the overall tone and look of the skin
Unique Treatment Elements
Sylfirm X microneedling med spa device for treating vascular veins and pigmentation is different from other invasive procedures in the following manner:
Minimal discomfort
Quicker treatments
Minimally invasive
No downtime
Incredible results
Immediately visible results
Can be safely used on any skin type
Choosing RF Microneedling Over Laser
Everyone is not a suitable candidate for laser. However, RF energy and laser therapy don't work in the same manner. Laser treatments generally address the most superficial skin layers without reaching the underlying layers where pigmentation problems arise. Hence, in most situations, laser therapy is not a permanent solution. In contrast, Sylfirm X targets those skin areas that cannot be reached by layers.
Treatment Expectations
Your therapist will take pictures and apply a layer of numbing gel on the skin before the treatment. Microneedles will be gently introduced at the treatment site once the numbing cream takes effect. You may feel mild discomfort during the procedure. However, it is tolerable as compared to other microneedling procedures since the needles are introduced into the skin very gently.
Number of Treatment Sessions Required
The doctors may ask you to get 2 – 6 repeat treatments for optimal results. Elastin and collagen generation takes time. This means that results will continue developing 6 – 8 weeks after the last treatment. Dr. Q Medical Spa receives patients from Palm Springs, Palm Desert, Rancho Mirage, Beverly Hills, CA, and nearby areas for vascular vein and pigmentation removal treatments for the legs.
Contact Dr. Q Medical Spa and Schedule a Consultation with California Board Certified Plastic Surgeon, Dr. Suzanne Quardt (Dr. Q on Dr. 90210)
For more information on Plastic Surgery and Non-Surgical Medical Spa Procedures and Treatments, please contact the offices of Board Certified Plastic Surgeon Dr. Suzanne Quardt (Dr. Q) by clicking here or calling 760-324-2660.
Dr. Q receives patients from Palm Springs, Palm Desert, Rancho Mirage, Beverly Hills CA, and other Southern California areas.