Juvederm Vollure XC dermal filler treatment is an FDA approved injectable med spa procedure to treat unsightly nasolabial folds and other prominent facial creases and folds.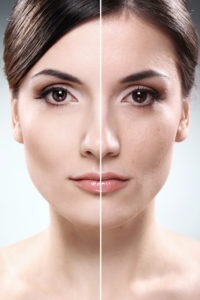 At the time of initial consultation, the injection provider will explain about various aspects of this procedure to the patient and may also present Juvederm Vollure XC before and after photographs.
A responsible provider's first concern will be to educate the patient about the benefits and limitations of Juvederm Vollure XC dermal filler, and help them make a well-considered decision.
The pillar of the community Dr. Q Medical Spa, led by board certified plastic surgeon Dr. Suzanne Quardt, provides Juvederm Vollure XC injections to patients in Palm Springs, Palm Desert, Rancho Mirage, and other suburbs and communities across the horizon in this part of SoCal.  
What are Juvederm Vollure XC Before and After Images?
Before and after images in case of Juvederm Vollure XC filler treatment refer to a pair or group of pictures pertaining to a previous patient who has receive the same injectable treatment with successful results.
The images include photographs taken before the injections and after the injections at a stage when post-treatment redness and swelling has dissipated and full effects of the cosmetic filler have been established.
The med spa treatment provider will take care to ensure that the photos are taken with the full consent of the patient and shown to new patients in an appropriate manner. The patient's identity may be kept undisclosed as per the standard norm.
The only purpose of the provider behind this endeavor is to use the photos as a visual aid to explain to the new patients about what Juvederm Vollure XC dermal filler can or cannot do for them.
Benefits
Patients who want to improve their facial youth by reducing the conspicuous wrinkles and folds will have several aesthetic treatment options before them. It can often become difficult to determine the right treatment for one's needs. Some patients may only require a limited treatment to eliminate mild nasolabial folds with Juvederm Vollure XC, while some others may need more intensive injectable treatment in multiple facial areas.
In some cases, the procedure may be combined with Botox or another dermal filler treatment. In each case, the patient can make better decisions when they have access to Juvederm Vollure XC before and after photos.
These pictures can be found online. They are amazing. The website provided by Dr. Quardt is sterling. Now a patient can see these pictures from their own bed or from the hallway outside of their office, for instance. Digital technology has changed the game and now patients can almost predict the future since they can take what they see on their clear screen and apply it to their own situation.
Patients can know exactly what they are signing up for. This diminishes their anxiety and makes this process that much more wholesome.
Staying Realistic
In any cosmetic treatment, it is vital to ensure that the patient clearly understands the potential benefits and limitations of the procedure.
Therefore, the injection provider may prefer to show Juvederm Vollure XC before and after photos at the very outset. This will allow the patient to know exactly what to expect and what not to expect from the results. This simple effort will help minimize the risk of any disappointments occurring for the patient at a later stage.
Image Gallery
The surgeon will have the option to present Juvederm Vollure XC before and after photos on their website under an exclusive section called Photo Gallery which this website does. These pictures offer transparency to any patient which has already been mentioned but really cannot be emphasized enough. New patients can conveniently review the photos online, and then decide whether to visit the surgeon's office for a Juvederm Vollure XC consultation.
The outstanding and committed Dr. Q Medical Spa receives patients from Palm Springs, Palm Desert, Rancho Mirage, and nearby areas for Juvederm Vollure.
For more information on Plastic Surgery and Non-Surgical Medical Spa Procedures and Treatments in the Rancho Mirage, Palm Springs, Palm Desert and surrounding areas please contact the offices of Board Certified Plastic Surgeon Dr. Suzanne Quardt (Dr. Q) by clicking here or calling 760-324-2660.