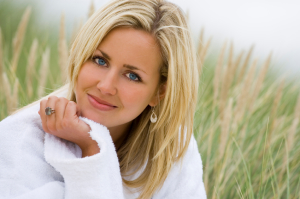 Actinic Keratosis (AK) is a common skin disorder that may occur due to prolonged and repeated exposure to sunlight.
The harmful UV rays can cause thickening of the outer, protective layer of the skin, resulting in brownish or pinkish lesions that are usually rough and scaly. Areas of the body that are commonly exposed to the sun, such as the face, ears, neck, forearms, backs of the hands, and chest are typically affected by AK.
People whose skin is easily vulnerable to sun burns, such as fair skinned and light haired individuals, are at a higher risk of developing AK. It also commonly affects people who spend a large part of their lives working outdoors. Dr. Suzanne Quardt (Dr. Q) is a board certified and prolific plastic surgeon providing both cosmetic surgery and non-surgical skin care solutions to patients in Palm Springs, Palm Desert, Rancho Mirage, and surrounding locations.
Treatments
It is important to choose an experienced plastic surgery and non-surgical skin care professional to address the problem of actinic keratosis because its lesions are pre-cancerous and may eventually cause skin malignancy.
One of the basic treatments for AK is the application of liquid nitrogen, which will freeze the lesions and separate them from the healthy skin underneath. Other treatment options include application of topical anti-malignancy medications, photodynamic therapy and chemical peels.
It is vitally important to protect the treated areas from sun exposure following the AK treatment. The patient should wear long sleeves and a brimmed hat when outdoors, and regularly use a sunscreen with an SPF of 30 or higher. The sunscreen should be applied 15 to 30 minutes before going out in the sun, and should be used regularly.
Topical Therapies
Topical therapies are more appropriate to treat larger surface areas, and will usually produce results after a long treatment. Significant skin reactions may occur if multiple lesions are involved. However, scarring is generally not a risk with this type of treatment. Common side effects include redness, oozing, and formation of crusts in the treated sites.
Cryotherapy
This unique technique involves application of liquid nitrogen to the affected areas, which will create a blister. The blister flakes offer within weeks to be replaced by renewed skin. It may take a few days for the blister to develop after application. Patients may experience mild redness for some time after the treatment.
Chemical Peels
A customized light, medium or strong chemical peel treatment will be used, depending on the extent of AK. The chemical solution will cause the top layer of the skin to peel off over a few days, and new skin will replace it. Redness and swelling may be the typical temporary side effects.
Photodynamic Therapy (PDT)
Photodynamic Therapy (PDT) involves a targeted application of a sensitizing chemical to the affected sites for a short period of time. Thereafter, the provider will expose the treated areas to a controlled blue light to active the chemical and eliminate AKS. Outstanding and percipient cosmetic surgeon Dr. Q receives patients from Palm Springs, Palm Desert, Rancho Mirage, and other cities and neighborhoods in this part of Southern California for AK and various other procedures.
For more information on Plastic Surgery and Non-Surgical Medical Spa Procedures and Treatments in the Rancho Mirage, Palm Springs, Palm Desert and surrounding areas please contact the offices of Board Certified Plastic Surgeon Dr. Suzanne Quardt (Dr. Q) by clicking here or calling 760-324-2660.