eMatrix Skin Rejuvenation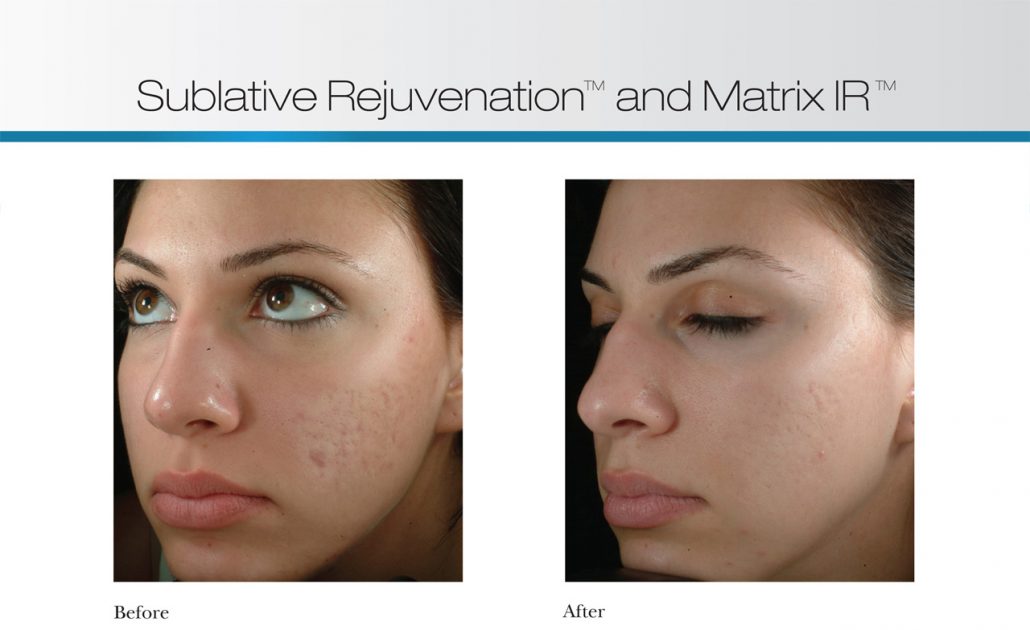 eMatrix is an innovative sublative skin rejuvenation med spa procedure that involves radio frequency (RF) energy. The procedure delivers targeted ablative and non-ablative fractional treatment for effectively enhancing skin texture and reducing the appearance of liver spots.
Your laser skin care expert will explain all aspects of the treatment, including estimated costs during the pre-treatment consultation. You should invest the time in comparing the costs of the treatment with others for determining the best possible solution. It is important to know that eMatrix laser skin rejuvenation procedure is not covered by insurance.
This is because the treatment is elective in nature. Hence, you should discuss the costs and payment methods with your surgeon during the initial consultation. Dr. Q Medical Spa, led by board certified plastic surgeon Dr. Suzanne Quardt (Dr. Q) provides eMatrix skin rejuvenation to patients in Palm Springs, Palm Desert, Rancho Mirage, Beverly Hills, CA, and surrounding communities.
Surgery Costs vs. eMatrix Skin Rejuvenation Costs
eMatrix skin rejuvenation costs are significantly less in comparison with cosmetic surgery costs for skin tightening of the body and face. However, you should understand that you would get longer lasting results with surgical procedures. Most patients are not comfortable with invasive procedures and the accompanying risks, discomfort, and downtime.
You don't require IV sedation or general anesthesia with eMatrix laser rejuvenation treatment. The procedure can be performed comfortably in the treatment provider's office rather than an operating room. Plastic surgery is usually more expensive because of anesthesiologist's fee, surgeon's charges, and surgical venue charges. You may need to pay for overnight hospital stays and post-surgery expenses as well.
Other expenses include prescription meds, surgical accessories, and medical tests. These can be avoided with medical spa based laser skin resurfacing.
Overall Cost is Impacted by Practice Location
The cost of getting eMatrix laser skin rejuvenation treatment can differ between two patients getting the treatment at the same practice or different practices. Cost of goods and services is dictated by the socio-economic conditions of a city. This includes the cost of cosmetic treatments.
Extent and Nature of Treatment
Standard laser skin resurfacing and eMatrix skin rejuvenation treatments can either be ablative or nonablative in nature. These are laser procedures that involve different techniques. Treatment intensity, number of sessions required and targeted areas are the difference between the two approaches.
Better results are offered by ablative laser technique because they are more aggressive. Non-ablative laser skin resurfacing medical spa treatment is less aggressive and suited to mild and moderately damaged skin. eMatrix laser skin rejuvenation providers can either charge the entire cost as a lumpsum amount or in easy installments.
You can either have the procedure performed on a small area of the face or the entire face. On an average, patients don't need more than 3 – 6 treatment sessions for achieving desired results. Ablative laser treatment is more intensive in nature and costs more as compared to nonablative techniques.
You may receive a discount from the treatment provider if the laser therapy is performed in combination with other procedures. Dr. Q Med Spa receives patients from Palm Springs, Palm Desert, Rancho Mirage, Beverly Hills, CA, and nearby areas for eMatrix skin rejuvenation treatment.
Contact Dr. Q Medical Spa and Schedule a Consultation with California Board Certified Plastic Surgeon, Dr. Suzanne Quardt (Dr. Q on Dr. 90210)
For more information on Plastic Surgery and Non-Surgical Medical Spa Procedures and Treatments, please contact the offices of Board Certified Plastic Surgeon Dr. Suzanne Quardt (Dr. Q) by clicking here or calling 760-324-2660.
Dr. Q receives patients from Palm Springs, Palm Desert, Rancho Mirage, Beverly Hills CA, and other Southern California areas.