Jeuveau Injectable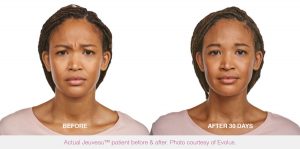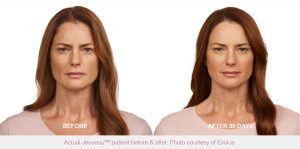 Jeuveau is an innovative and effective med spa procedure for facial wrinkle reduction. During initial consultation, the injection provider will inform you about the various limitations and benefits of the injectable treatment. It is possible that the treatment provider may also show before and after images to you.
These pictures are helpful in providing deeper insight and understanding of the various aspects of the cosmetic injectable. You will be in a better position to comprehend the possible results of the procedure by looking at these photos. They help in improving transparency between a patient and treatment provider as well.
Patients are in a better position to make decisions about getting the procedure by looking at these pictures. Dr. Q Medical Spa, led by board certified plastic surgeon Dr. Suzanne Quardt (Dr. Q) provides facial wrinkle reduction injectable treatments to patients in Palm Springs, Palm Desert, Rancho Mirage, Beverly Hills, CA, and surrounding locations.
Connecting with Prospective Patients
Injection provider can form better connections with new patients by showing before and after images of Jeuveau injectable. Patients take one look at the images and get a better understanding of what the injectable can and cannot do. They understand the kind of facial aging concerns that can be addressed by the treatment. This helps them attain greater transparency and makes them feel more confident.
Most candidates believe that Jeuveau will work on them if it worked on someone else with the same facial concerns. Before and after pictures can make a favorable impact on creating an environment of confidence and trust between the patient and the treatment provider.
Pictures Explain Better
Jeuveau 'before and after' pictures usually create a far more compelling case for new patients than just words. Patients can always misinterpret or confuse the words spoken by a treatment provider. However, images are not affected by barriers of language. They are useful in presenting the real and accurate picture. However, it is important that treatment providers don't photoshop or modify the images in any way.
Increasing Awareness Through Online Forums
New possibilities are created by social media channels. Thousands of people create awareness of procedures, such as Jeuveau by sharing pictures. These forums can be used by treatment providers for sharing before and after images of the treatment. Thousands of prospective patients will be able to understand the benefits of the procedure after looking at these images.
Pinterest, Instagram, and Facebook among other platforms can be used by the medical spa treatment providers and their marketing team for sharing the images. These images are digital in nature and are really a game changer. Now you can see these images on the site too and does not matter if you are in Perth, Australia or sitting at a Taco Bell eating a steak and cheese burrito – it does not matter as long as you have an internet connection. In the coming 5G world, there's a strong possibility that you do.
Digital images offer a clarity that previous generations did not have access too. Now this does correlate with this treatment existing now because where one industry makes advancements so do other industries. The point is, is that with these images you should be able to grasp what to expect because of the clarity they offer.
Setting Reasonable Expectations
Significant improvement in terms of facial aging is offered by Jeuveau injectable treatment. However, the results are nowhere comparable to those of a surgical face lift or any other procedure. With that said, it's recommended that patients look at before and after pictures for setting reasonable expectations.
You can better appreciate the final results by starting off with reasonable expectations. Jeuveau 'before and after' images are helpful in mitigating the risk of disappointments at a later stage as well.
Dr. Q Med Spa, headed by cosmetic surgeon Dr. Suzanne Quardt (Dr. Q) receives patients from Palm Springs, Palm Desert, Rancho Mirage, Beverly Hills, CA, and nearby areas for facial wrinkle reduction injectable treatments.
Contact Dr. Q Medical Spa and Schedule a Consultation with California Board Certified Plastic Surgeon, Dr. Suzanne Quardt (Dr. Q on Dr. 90210)
For more information on Plastic Surgery and Non-Surgical Medical Spa Procedures and Treatments, please contact the offices of Board Certified Plastic Surgeon Dr. Suzanne Quardt (Dr. Q) by clicking here or calling 760-324-2660.
Dr. Q receives patients from Palm Springs, Palm Desert, Rancho Mirage, Beverly Hills CA, and other Southern California areas.