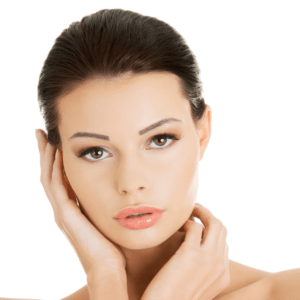 Dermal fillers currently rank as the second most popular facial anti-aging med spa procedure after Botox in the US. Thousands of women and men are choosing facial fillers as a minimally invasive substitute for facelift surgery. A skilled provider can combine more than one filler, and possibly add Botox to your regimen in order to provide you a non-surgical facelift.
Dr. Q Medical Spa, led by board certified plastic surgeon Dr. Suazanne Quardt, provides non-surgical facelift with soft tissue fillers to patients in Palm Springs, Palm Desert, Rancho Mirage, and surrounding communities.
What can a Liquid Facelift do for you?
A non-surgical facelift, popularly known as a liquid facelift, will involve a customized combination of dermal filler injections that will be injected directly into the affected areas of your skin. With no cuts, incisions or surgery, you can achieve a reduction in facial sagging, and reduce the appearance of wrinkles and fine lines with a liquid facelift.
The non-surgical facelift med spa treatment will instantly plump up and volumize the depleted areas of your face to reduce aging lines. It can also provide the following additional benefits:
Reduce the hollows under your eyes

Create a rounder mid-face by filling up your cheeks

Plump up your lips and add definition to them

Fill up the creases and wrinkles around forehead, eyes, lips and reduce nasolabial folds

Mitigate the effect of acne scars and depressions in the face
Customized Plan for Your Non-Surgical Facelift
Your med spa injection provider will formulate a customized liquid facelift plan in consultation with you. They will explain to you the benefits and limitations of different dermal fillers that they may recommend as part of this procedure. Depending on your goals and the appearance of frown lines on your face, your provider may also include Botox as part of your treatment plan.
Your non-surgical facelift can be safely performed at a qualified med spa as an outpatient procedure. The key is to choose a skilled injection provider who can deliver the treatment with high precision, in exact volumes, and at the right skin depths for best results.
Procedure
At first, your provider may use a local anesthetic to numb the targeted areas. If all the filler injections to be used already contain lidocaine local anesthetic, a separate anesthetic may not be necessary. Each type of filler injection will require just a few minutes to administer, and all injections can be completed in a single treatment session.
You may experience a mild stinging sensation when the needle is injected into the skin tissue. Your liquid facelift session could get completed in about 20 to 30 minutes, depending on the number of areas to be treated, and the number of injections involved.
Depending on your facial rejuvenation needs, your non-surgical facelift procedure may include treatment in areas such as the temples, cheeks, jowls, folds between the mouth and nose, under the eyes, and around the brows. Dr. Q Medical Spa receives patients from Palm Springs, Palm Desert, Rancho Mirage, and nearby areas for non-surgical facelift with dermal fillers.
For more information on Plastic Surgery and Non-Surgical Medical Spa Procedures and Treatments in the Rancho Mirage, Palm Springs, Palm Desert and surrounding areas please contact the offices of Board Certified Plastic Surgeon Dr. Suzanne Quardt (Dr. Q) by clicking here or calling 760-324-2660.