Reduce Your Double Chin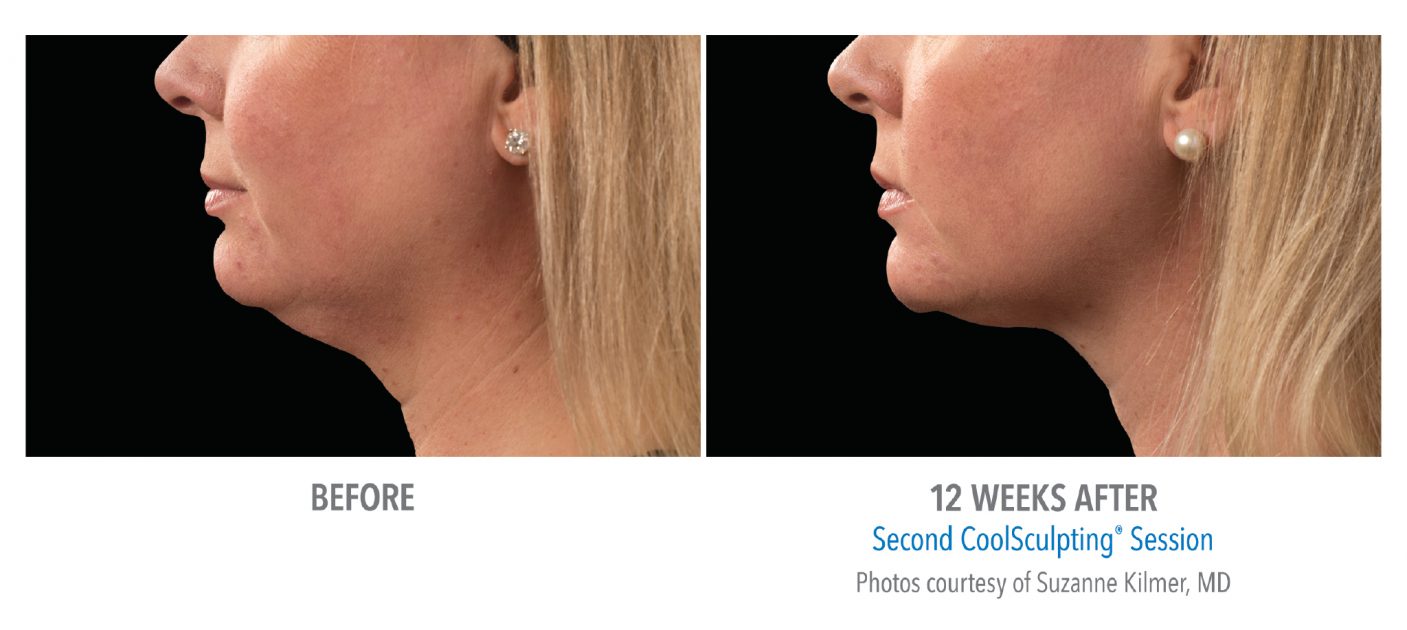 Double chin can make people appear older than their real age. CoolMini is a simple fat freezing technique, like CoolSculpting. However, the handpiece has a small area and can perfectly tuck beneath the chin. CoolMini is excellent for the chin, as well as, the left and right side of the neck below the jawline.
Dr. Q Medical Spa, led by board certified plastic surgeon Dr. Suzanne Quardt (Dr. Q) provides CoolMini by CoolSculpting double chin reduction treatment to patients in Palm Springs, Palm Desert, Rancho Mirage, Beverly Hills, CA, and surrounding locations.
Eliminate Double Chin with CoolMini
Neck lift plastic surgery and neck liposuction were the only two ways of removing submental fat until a decade ago. The submental fat is responsible for neck wattles, jowls, and chin. However, fat can now be dissolved under the chin and in the neck with the FDA cleared noninvasive CoolMini procedure. This can be done conveniently and rapidly without surgery.
The FDA cleared CoolMini med spa device comes with a new expanded function, allowing cosmetic professionals to remove tiny and stubborn fat pockets from under the chin with the help of a special applicator.
The applicator has been used for treating double chins in over 2 million treatments with high satisfactory rates. In fact, the outcome is comparable to surgical liposuction procedure. CoolMini can provide a 20% reduction in chin fat in a 45-minute session.
The CoolMini Procedure
Your plastic surgeon or a trained CoolSculpting aesthetician will place the CoolMini applicator beneath the chin in this procedure. The submental fat cells will get killed and eliminated through the body's metabolic process. Controlled cooling is used by a licensed medical aesthetic provider to eliminate stubborn fat from under the chin area.
The procedure only targets fat cells present beneath the skin leaving the surface area of the skin unharmed. The fat cells, once frozen, are naturally removed from the body. There is no downtime involved in the CoolMini fat reduction med spa treatment.
Trusted and Proven Effectiveness
CoolMini applicator got FDA approval on the basis of a study involving 60 participants (both males and females) between the ages of 22 and 65. According to the study, there were no significant adverse effects. Additionally, patients did not experience any downtime or substantial discomfort.
Zeltiq, the CoolSculpting manufacturer, also states that the study participants reported visible improvements in just 3 weeks with maximum improvements after 3 months. CoolSculpting of the chin and neck using a CoolMini applicator offers real results. Users state the procedure is highly effective on both substantial and small fatty deposits on the neck and chin. Patients are satisfied with the outcome and the procedure is safe.
Treatment Process
You may need 1 – 2 treatment sessions of one hour each for reducing 20% fat under the chin area. The treatment provider will use the curved jaws of the device to clamp neck fat. This will then be exposed to cold temperature that will numb the region. You will not feel any major discomfort during the procedure.
Dr. Q Medical Spa receives patients from Palm Springs, Palm Desert, Rancho Mirage, Beverly Hills, CA, and nearby areas for CoolMini by CoolSculpting double chin reduction treatment.
Contact Dr. Q Medical Spa and Schedule a Consultation with California Board Certified Plastic Surgeon, Dr. Suzanne Quardt (Dr. Q on Dr. 90210)
For more information on Plastic Surgery and Non-Surgical Medical Spa Procedures and Treatments, please contact the offices of Board Certified Plastic Surgeon Dr. Suzanne Quardt (Dr. Q) by clicking here or calling 760-324-2660.
Dr. Q receives patients from Palm Springs, Palm Desert, Rancho Mirage, Beverly Hills CA, and other Southern California areas.