Microneedling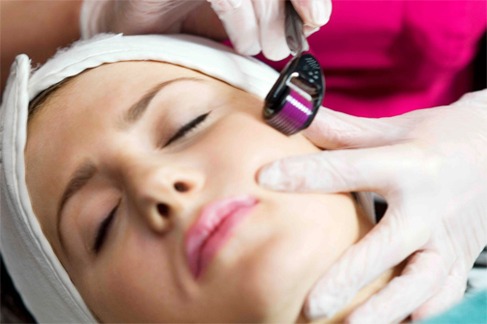 The first lines and wrinkles generally appear on a person's face where the skin folds naturally during facial expressions. These develop when the skin becomes less elastic or thinner over time.
Wrinkles can also appear in body parts that receive the most sun exposure, such as the back of the hands, face and neck, and arms. Wrinkles affect everyone and are a natural part of growing older.
Sylfirm X RF microneedling for skin rejuvenation is for you whether you are a mature person with skin aging concerns or a young individual with facial problems.
Dr. Q Medical Spa, led by board certified plastic surgeon Dr. Suzanne Quardt (Dr. Q), provides RF microneedling for the reduction of wrinkles and aging lines to patients in Palm Springs, Palm Desert, Rancho Mirage, Beverly Hills, CA, and surrounding communities.
Sylfirm X for Treating Wrinkles and Fine Lines
Sylfirm X involves advanced Repeated Ultra-short Pulse technology that targets anomalous blood vessels and tissues for treating both vascular pigmentation and lesions. The procedure offers interesting results for a wide range of skin conditions, such as acne scars and melasma. It also helps in reducing fine lines and wrinkles while providing skin tightening effects.
A minimally invasive microneedle system is used by Sylfirm X that creates an electromagnetic field which penetrates the different skin layers. Most conventional radiofrequency micro-needle systems make use of Continuous Wave (CW). Sylfirm X has a dual wave technology that involves both Continuous Wave and Pulsed Wave.
Practitioners can now treat a wide range of skin disorders while customizing the therapy for meeting specific needs of individual patients as per their skin condition and type.
This innovative RF micro-needle system is minimally invasive and provides promising results in the field of skin rejuvenation. The microneedles emit radiofrequency heat energy that boosts collagen production. The med spa procedure can improve your skin texture and tone, while reducing wrinkles, pore size, fine lines, acne scars, and laxity.
Sylfirm X Mechanism
Anomalous vessels are targeted by Sylfirm X treatment. This can cause skin discolorations and aging lines. An electromagnetic field of energy is created by microelectrodes, which penetrates the dermal layer without damaging skin tissue. The treatment is highly precise because of the inbuilt robotic system.
RF microneedling med spa procedures are more effective and faster since they allow for penetration of multiple dermal layers. This is while the patient remains comfortable. New gen Sylfirm X has 8 different modes. This enables treatment providers to offer personalized solutions.
Targeted Concerns
Sylfirm X RF microneedling device can be used for achieving a younger and smoother looking skin by treating these issues:
Fine lines
Wrinkles
Enlarged pores
Facial rejuvenation
Melasma
Pigmented lesions
Skin laxity
Body rejuvenation
Post-inflammatory hyperpigmentation
Double chin
Turkey neck
Diffused redness
Vascular lesions
Telangiectasia
Acne scars
Rosacea
Atrophic scars
Stretch marks
Hypertrophic scars
The Bottom Line
It was never more easy or seamless to treat facial aging lines. Sylfirm X is what you need whether you are looking to reduce lines, fade acne scars, or tighten your skin. It has the potential to provide long-lasting results. Dr. Q Medical Spa receives patients from Palm Springs, Palm Desert, Rancho Mirage, Beverly Hills, CA, and nearby areas for Sylfirm X RF microneedling to reduce aging lines and wrinkles.
Contact Dr. Q Medical Spa and Schedule a Consultation with California Board Certified Plastic Surgeon, Dr. Suzanne Quardt (Dr. Q on Dr. 90210)
For more information on Plastic Surgery and Non-Surgical Medical Spa Procedures and Treatments, please contact the offices of Board Certified Plastic Surgeon Dr. Suzanne Quardt (Dr. Q) by clicking here or calling 760-324-2660.
Dr. Q receives patients from Palm Springs, Palm Desert, Rancho Mirage, Beverly Hills CA, and other Southern California areas.