PERMANENTLY ELIMINATE UNWANTED HAIR WITH LASER HAIR REMOVAL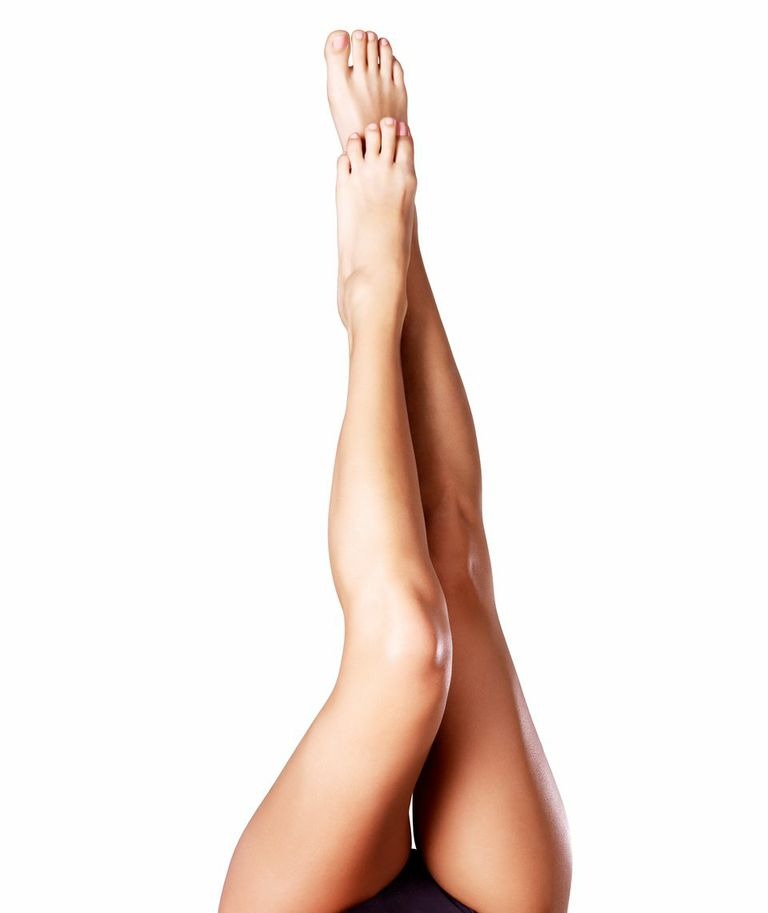 Dealing with unwanted hair on our face and body is a concern that all of us have experienced at some point in our lives. Typical hair removal methods are far from perfect, and are associated with a number of bothersome complications:
Shaving: depilatory method (hair is not removed at the root, but rather above the level of the pore at the follicular opening) provides only short-term results and must be performed frequently to maintain results; folliculitis (razor bumps); ingrown hairs; cost of purchasing razors over one's entire lifetime; stubble formation within 12-24 hours of shaving
Waxing/Sugaring: uses hot wax to pull hair out at the roots, which can be very painful; necessary to wait for sufficient hair regrowth prior to next waxing service; potential for skin burning and irritation; cost of treatments over time can be prohibitively expensive and time consuming; hair regrowth may be uneven, leaving clients with patches of unwanted hair
Chemical Depilatory Creams: use chemical formulations to destroy the hair shaft by breaking disulfide bonds of the hair proteins—may produce irritation or dermatitis in some individuals; unpleasant smell; short-term treatment must be performed frequently to maintain results
Fortunately, laser-based technology provides a superior hair removal alternative to the aforementioned options. Laser hair removal provides a safe, effective, and—most importantly—permanent way to remove unwanted hair. Laser hair removal can make razor bumps, prickly stubble, painful waxing, and time-consuming shaving rituals seem like distant, unpleasant memories, and will leave you with smooth, hair-free skin that you can feel comfortable showing off!
Palomar Medical Technologies
Palomar Medical Technologies, Inc., a leading researcher and developer of lasers and pulsed-light systems for aesthetic treatments, is pleased to announce that the Artisan™ Aesthetic System is now being shipped. The Artisan provides a combined fractional ablative and fractional non-ablative laser skin resurfacing treatment – the first approach of this kind to receive clearance by the United States Food and Drug Administration.
Artisan Aesthetic System
The Artisan Aesthetic System includes a 1540 nm or 1440 nm non-ablative fractional laser and a 2940 nm ablative fractional laser for skin resurfacing and a MaxG™ optimized light handpiece for the treatment of pigmented and vascular lesions. Palomar's new FDA clearance covers the combination use of both the non-ablative and ablative fractional lasers during the same treatment session. Palomar believes that this specific collection of skin resurfacing and photofacial technologies allows practitioners to tailor a complete skin rejuvenation regimen for each individual client.
"Artisan combines the best of our non-ablative and ablative fractional laser technologies with our optimized light technology. This combination of technologies can be used to improve skin tone and texture, along with specific laser treatments for wrinkles, scars, and stretch marks. Practitioners now have the multiple technologies they need for an overall best-in-class treatment depending on each individual client's age, skin condition, and downtime preference," said Joseph P. Caruso, Palomar's President and Chief Executive Officer.
Palomar's unique combination ablative and non-ablative fractional treatment provides a direct benefit to clients. Arielle Kauvar, MD, director of New York Laser and Skin Care, said, "What is special about Artisan is that I customize just the right amount of ablative or non-ablative fractional treatment to fit each patient's needs for facial rejuvenation, as each patient has different preferences for speed of treatment, downtime, and the number of treatments they're willing to undergo. With Artisan, I can also treat the many patients who have scars and stretch marks." In 2009, Palomar received the first FDA clearance for the treatment of stretch marks using a fractional laser.
Dr. Q
At Dr. Q™ Medical Spa, located in sunny Rancho Mirage, California, Board Certified plastic surgeon Dr. Suzanne Quardt (Dr. Q™) empathizes with the exasperating struggle to keep undesirable hair at bay, and has equipped her practice with the eLase™ with Motif™ capabilities, a state-of-the-art laser hair removal workstation from Syneron, a respected leader in the cosmetic medicine industry. eLase™ is the fastest diode laser platform with the ability to safely, comfortably, and effectively remove hair on the widest range of skin and hair types.
The eLase™ laser hair removal system offers a number of key benefits:
Proprietary elōs technology merges bi-polar radio frequency (RF) and diode laser energies to produce gentle, yet powerful hair removal results for patients of all skin tones and hair colors
The Motif HR Plus™ hand-piece expedites hair removal on larger treatment areas (i.e. legs)
Powerful laser energy targets and destroys hair follicles without damaging the adjacent tissues
Built-in skin-cooling system shuts off automatically if the skin becomes too hot, thereby guaranteeing a safe and comfortable treatment
No post-treatment downtime is necessary—patients may immediately return to their normal schedules after the laser hair removal session is over
Future hair growth is reduced after each treatment session (exact number of treatment sessions depend on the patient's hair color, hair type, and the location and size of the treatment area)
The NEW elōs Motif mode facilitates faster treatment times in comparison to alternative laser hair removal systems
Patented Active Dermal Monitoring™ feature enhances patient safety and comfort by monitoring skin impedance changes during each pulse
WHAT YOU NEED TO KNOW ABOUT LASER HAIR REMOVAL
How does it work? Laser hair removal employs an intense, pulsating beam of light to target unwanted hair, and is safe for use on any area of the body (except for the eyelids). As the light energy passes through the skin, it is absorbed by the pigment in the hair follicle, where it painlessly eviscerates the carbon in the hair follicles, killing the hair itself and permanently preventing the regrowth of hair in that follicle.
What will happen during my laser hair removal session? Your laser hair removal treatment will be performed in the comfort of our office, and may last anywhere from a few minutes to a few hours, depending on the size of the treatment area. During the procedure, a small, hand-held device will be used to deliver the light energy that will destroy the hair follicle while simultaneously cooling the outer layers of skin, which serves to protect the surrounding tissues. No anesthesia or downtime is required, and you may return to your normal schedule immediately after your session.
How many sessions will I need to see results? Because the laser can only target hair follicles in the active growth cycle at the time of the treatment, most clients require approximately 5-7 sessions to permanently remove all hair; however, the exact number of treatments will depend on your skin tone, hair type, hair color, and the location and size of the treatment area.
CONTACT DR. Q™ MEDICAL SPA
Situated in beautiful Rancho Mirage, California, Dr. Q™ Medical Spa has become an oasis for patients seeking a tranquil reprieve from the chaotic pace of everyday life while receiving non-invasive, yet highly-effective skin rejuvenation and body contouring treatments. Unparalleled patient care is the foundation of Dr. Q™'s cosmetic surgery practice, and she extends this exceptional level of service, attentiveness, and commitment to client satisfaction to her medical spa, where she offers a variety of customizable treatments designed to accommodate her patients' diverse needs and aesthetic goals.
If would like additional information about our customized laser hair removal treatments, please contact Dr. Q™ Medical Spa today. We look forward to speaking with you, and to scheduling your initial consultation with Dr. Q™.