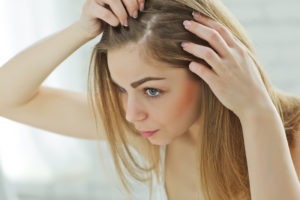 Hair loss is a widespread problem among both men and women across the US. It is often the cause of embarrassment, frustration, and loss of confidence, particularly when treatments do not work and the patient wants to avoid a surgical hair transplant.
ALMI (Autologous Lipocyte Micronized Injection) is a groundbreaking procedure that could be a reliable, all-natural treatment for your hair loss. Whether you are bothered by a balding patch, a receding hairline, or a lack of hair volume and thickness, ALMI med spa procedure can help resolve these issues successfully.
ALMI treatment is designed to restore:
Hair Follicles

Hair Thickness

Hair Re-growth

Bald Spots

Receding Hairlines
Dr. Q Medical Spa, led by board certified plastic surgeon Dr. Suzanne Quardt (Dr. Q) provides ALMI treatment to patients in Palm Springs, Palm Desert, Rancho Mirage, and surrounding communities.
Procedure
With the ALMI technique, you will receive targeted treatment in the affected areas using your own healthy cells to trigger the regeneration of hair follicles during their growth cycles. The hair restoration expert can perform this procedure in a comfortable med spa setting, while using only local anesthesia to numb the treatment site and harvest site.
The entire treatment session is usually completed in about one hour or less. Your provider will first harvest a small amount of fatty cells from either the flank or abdominal area. This will be done manually with tumescent liposuction technique, which involves only a very tiny cut and a very small needle or cannula.
In addition, a tiny amount of blood will be drawn, which will then be spun in a centrifuge to separate PRP (platelet rich plasma) growth factors. Once your own body cells and PRP are drawn and preserved, the recipient site in your scalp will be prepared. Following a local anesthetic, the provider will inject the ALMI and PRP with a thin needle, similar to what is used for dermal filler injections.
You will be able to see noticeable results during the next hair growth cycle. These results will continue to improve with each cycle of hair growth, and you can achieve the desired hair restoration without any surgery or medication.
Science behind ALMI Injections
The adipose tissue in human body is composed of fat cells or lipocyctes. These lipocytes are vital for physical support, energy storage, and metabolism.
The hair follicles are present in close proximity to the surrounding adipose tissue within the deeper skin layers. Research studies have increasingly shown that there is a strong correlation between hair follicle growth and regeneration and the presence of adipose tissue.
When this adipose tissue or fat is redistributed using autologous microfat or nanofat grafting techniques, it can stimulate the repair and regeneration process in the recipient sites, helping in new hair growth.
Researchers are now supporting this area of Biocellular Regenerative medicine that is using adipose tissue effectively to make a positive impact on hair follicle cycling in patients who are in the early stages of hair loss and balding.
Dr. Q Medical Spa receives patients from Palm Springs, Palm Desert, Rancho Mirage, and nearby areas for ALMI hair restoration treatment.
For more information on Plastic Surgery and Non-Surgical Medical Spa Procedures and Treatments in the Rancho Mirage, Palm Springs, Palm Desert and surrounding areas please contact the offices of Board Certified Plastic Surgeon Dr. Suzanne Quardt (Dr. Q) by clicking here or calling 760-324-2660.