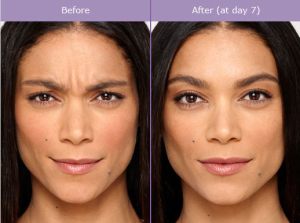 Facial signs of aging can be temporarily reduced with safe and proven neuromodulator injectables such as Botox and Dysport. Both of these treatments include botulinum toxin A as their main ingredient. This neurotoxin is injected directly into the wrinkle forming muscles on the face to put them in a relaxed state for a few months. Both Botox and Dysport may be received from a trained and certified provider as an in-office procedure.
The composition and treatment modality for Botox and Dysport is very similar, but these injectables are also distinct from each other in certain ways. An experienced med spa treatment provider will explain the pros and cons of various treatment options at the time of initial consultation to enable the patient to make an informed decision. Dr. Q Medical Spa provides Botox and Dysport to patients in Palm Springs, Palm Desert, Rancho Mirage, and surrounding communities.
Popularity and Acceptance
Botox injectable anti-aging facial treatment has been around for more than 15 years. It received the FDA's approval in 2002 for the reduction of frown lines, and ever since then it has continued to be the most popular and widely accepted non-surgical anti-aging facial injectable in the US and internationally. Botox is manufactured by Allergan, Inc., which is a leading company producing high quality medical products and devices.
In 2013, the FDA further approved Botox for the cosmetic reduction of crow's feet around the eyes, which has boosted its credibility further. Over the years, a number of celebrities have acknowledged the benefits of Botox, which has contributed to its popularity. More than a million women and men in the US receive the benefits of Botox each year.
Dysport, on the other hand, was the leading anti-wrinkle injectable in Europe for many years before it was approved by the FDA in 2009 for the US market. Dysport is manufactured by Medicis, which is also a prominent company for aesthetic medical products, including Restylane group of dermal fillers. Dr. Q Medical Spa receives patients from Palm Springs, Palm Desert, Rancho Mirage, and nearby areas for Botox and Dysport injections.
Key Differences
One of the differences in the composition of Botox and Dysport injectables is that the size of molecules in case of Botox is slightly bigger than that of Dysport. Therefore, the unit measure of the two treatments is done differently. Due to its relatively lower popularity, Dysport may cost a little lower at some practices, but this will ultimately depend on the pricing policy of an individual practice.
Effectiveness as well as risk profile in both Botox and Dysport has shown to be quite similar in various research studies. But some physicians tend to believe that the results with Botox may be a little more sustainable and longer lasting as compared to Dysport.
On the upside for Dysport, some analysts suggest that the results with this injectable treatment can be established faster (within two to five days) as compared to Botox, which may take about four to seven days. Dysport may diffuse to a relatively wider area, which may be both an advantage and a disadvantage, depending on which area is being treated.
For more information on Plastic Surgery and Non-Surgical Medical Spa Procedures and Treatments in the Rancho Mirage, Palm Springs, Palm Desert and surrounding areas please contact the offices of Board Certified Plastic Surgeon Dr. Suzanne Quardt (Dr. Q) by clicking here or calling 760-324-2660.