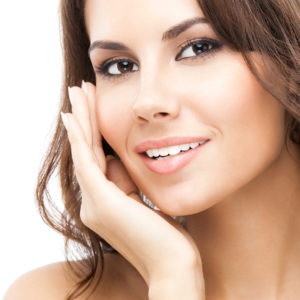 Laughter is the true expression of a person's inner joy. But with age, the repetitive motion of laughter and smiling may lead to the formation of deeper lines and creases around the mouth and eyes. Over time, this condition may become static, which means even when the face is motionless the lines may still be there.
This condition can be corrected in a non-surgical manner with Botox injections. The Botox treatment plan can vary between two patients, depending on their facial anatomy and the size of facial muscles involved in laughing and smiling. Dr. Q Medical Spa provides Botox for laugh lines to patients in Palm Springs, Palm Desert, Rancho Mirage, and surrounding communities.
Choosing the Right Botox Provider
Botox treatment for laugh lines is a sensitive procedure, even though it may appear to be a simple injectable treatment on the surface. Botox includes botulinum neurotoxin, which is a highly potent biological agent.
If this FDA approved injectable treatment is administered in wrong quantity or injected into the wrong muscle, or administered incorrectly, it can lead to significant side effects. Therefore, the patients should choose a medical spa that is qualified and equipped to provide Botox treatment.
Laugh line treatment also requires injecting Botox in the circular muscles around the eyes. Eyes are a highly delicate area of the face, which makes it even more important that Botox is injected precisely into the targeted muscle and in the correct volume. When the procedure is performed by an expert, it will take only a few minutes to administer tiny injections on each side of the face, without causing any significant pain or exposing the patient to any risk.
How does Botox Work?
Laughing and smiling will tend to cause the skin to crease repeatedly at the same location, and the underlying tissue in that area will wear down. Laugh lines will result from the overactive underlying muscles. Botox can be injected directly into these muscles to cause them to relax immediately. This will make the skin smoother, remove the lines and the skin will not crinkle up.
When the botulinum toxin enters the targeted muscle, it will block the nerve impulse from getting transmitted to it. As a result, the muscle will become relaxed almost instantly. The skin overlying the muscle will become smoother, and the deep lines and wrinkles being formed due to that muscle will soften and gradually disappear. Dr. Q Med Spa receives patients from Palm Springs, Palm Desert, Rancho Mirage, and nearby locations for Botox and other procedures.
Advantages of Botox
Unlike a facial cosmetic surgery procedure, Botox injectable treatment can be completed quickly in less than 30 minutes. It does not involve general anesthesia or IV sedation, and the patient will experience minimal pain or discomfort. Botox will not involve any downtime for most patients.
Working people and busy mothers usually prefer such procedures that allow them to return to their normal activities immediately. All risks and complications that are typically associated with a cosmetic surgery procedure will be avoided in case of a Botox laugh line treatment.
For more information on Plastic Surgery and Non-Surgical Medical Spa Procedures and Treatments in the Rancho Mirage, Palm Springs, Palm Desert and surrounding areas please contact the offices of Board Certified Plastic Surgeon Dr. Suzanne Quardt (Dr. Q) by clicking here or calling 760-324-2660.