Juvéderm Voluma XC Dermal Filler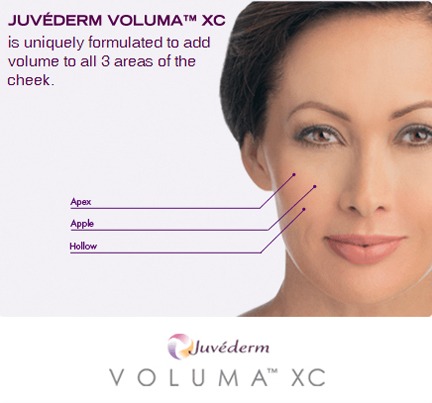 Juvederm Voluma XC is a proven and safe noninvasive facial volumizing med spa treatment. It is for people looking to avoid invasive cosmetic surgeries. The dermal filler injectable is developed for restoring fullness in depleted facial locations for the purpose of producing a younger and rounder looking face.
Detailed information will be offered by the treatment provider regarding benefits, limitations and costs associated with Juvederm Voluma XC. This will enable you to make a well-informed decision.
Dr. Q Medical Spa, led by board certified plastic surgeon Dr. Suzanne Quardt (Dr. Q), provides Juvederm Voluma XC facial filler injection treatments to patients in Palm Springs, Palm Desert, Rancho Mirage, and surrounding communities.
Comparing Costs
Juvederm Voluma XC is a highly cost-effective procedure as compared to several anti-aging treatments that involve ultrasound, laser, and RF technologies. The injection procedure doesn't take more than 20 minutes to be administered. Your cosmetic surgeon will address all your concerns and questions regarding the cost of the treatment and how it compares with other treatment options.
Juvederm Voluma XC contains lidocaine which removes the need for a separate anesthetic. The injections can be delivered in an in-office setting. You don't need any separate allergy tests since the dermal filler contains hyaluronic acid, which is a naturally occurring biodegradable component. You won't need any prescription drugs as well afterwards.
Cost benefits are more for working people since this medical spa treatment doesn't involve any downtime. You can return to workplace after taking an hour off during lunch time to have the procedure completed.
Juvederm Voluma XC Cost Benefits
Concentration of HA is higher in Juvederm Voluma XC as opposed to other HA based dermal fillers. This makes results longer lasting. Most dermal fillers containing hyaluronic acid produce results lasting from 6 – 12 months. However, Juvederm Voluma XC can offer results lasting for up to 18 months to even two years in some cases.
Treatment Extent
Most med spa injection providers assess the estimated cost of Juvederm Voluma XC based on the number of injections used. Few treatment providers may base the overall cost on an hourly basis. It is possible for the costs to vary from one patient to the next getting the treatment at the same practice. This is because Juvederm Voluma XC costs depend on the extent of the treatment.
More syringes may be required if the treatment area is significant. Few patients require more sessions and monitoring to achieve their aesthetic outcomes. Some treatment providers may recommend combining Juvederm Voluma XC with Botox. Each of these situations may have a significant impact on the price tag.
Juvederm Voluma XC Finance and Insurance
Juvederm Voluma XC dermal filler procedure is an elective aesthetic treatment. The expenses are usually not borne by healthcare providers. However, there are several financing alternatives that can be availed by patients. This includes paying through credit cards, bank loans, private loans, borrowing from friends and family, or financing through third-party medical care financing firms.
You should ask the administrative staff at the treatment provider's office to help you with the best options. Dr. Q Med Spa receives patients from Palm Springs, Palm Desert, Rancho Mirage, and nearby areas for Juvederm Voluma XC soft tissue filler injections.
Contact Dr. Q Medical Spa and Schedule a Consultation with California Board Certified Plastic Surgeon, Dr. Suzanne Quardt (Dr. Q on Dr. 90210)
For more information on Plastic Surgery and Non-Surgical Medical Spa Procedures and Treatments, please contact the offices of Board Certified Plastic Surgeon Dr. Suzanne Quardt (Dr. Q) by clicking here or calling 760-324-2660.
Dr. Q receives patients from Palm Springs, Palm Desert, Rancho Mirage, Beverly Hills CA, and other Southern California areas.