Varicose Vein Treatment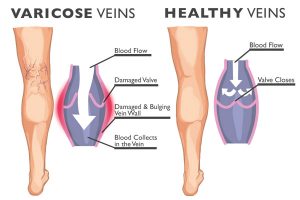 Varicose vein removal treatment options have been made less invasive and safer over the years because of advances in techniques and technologies. During initial consultation, your vein specialist will inform patients about different treatment options for varicose vein treatment. They will also discuss the estimated costs of each treatment option.
The primary goal of any responsible med spa treatment provider will be to help you make a well-considered decision after understanding advantages and limitations of different options. You should look at the costs in the context of the standard of care you will receive at a practice.
Dr. Q Medical Spa, led by board certified plastic surgeon Dr. Suzanne Quardt (Dr. Q) provides varicose vein treatments to patients in Palm Springs, Palm Desert, Rancho Mirage, Beverly Hills, CA, and surrounding communities.
Cost Factors
There are several treatment options for varicose veins, including foam sclerotherapy, traditional sclerotherapy, and laser treatments. Your surgeon may use ultrasound guidance during foam sclerotherapy for ensuring precise results. Further, ultrasound may also be used for diagnosing the full extent and nature of varicose veins.
During diagnosis and pre-treatment consultation, the vein specialist will recommend the most ideal treatment option. They will also explain the overall costs involves. The extent of treatment and overall costs will be determined after assessing the number, location, and size of varicose veins.
In some situations, the vein expert will also recommend a combination of RF or laser treatment and sclerotherapy for accomplishing the desired results. You may need to undergo multiple sessions for getting rid of stubborn varicose veins. Your end costs will depend on the overall time invested in the procedure and the various different types of technologies and techniques used.
Committed treatment providers ensure to offer transparent pricing for treating varicose veins. The overall price tag estimate should include patient care. There should not be any hidden charges. You should be given individual care and attention. This is why it's vital to get treated at a professional practice.
Financing and Insurance Options
Patients may be able to seek insurance coverage for their varicose vein treatment in some cases. This depends on the extent and nature of the vein condition. It also depends on the type of treatment technique employed by the treatment provider. You should discuss possibility of insurance coverage with your insurer after consulting with a dermatologist for advice.
The treatment provider's staff will help you with insurance documentation. They will also help you with concerted efforts for receiving partial or full coverage. In certain cases, it may not be possible for a patient to receive insurance coverage. This is especially true if they are seeking the treatment for cosmetic reasons and don't necessarily have a medical condition.
Generally, patients need to pay for the procedure out of pocket only when they are getting it for aesthetic reasons. Third party medical care financing firms offer loans to such patients. These loans are at competitive interest rates. You can also secure financing through banks and other avenues. This will help you pay for the cost in easy monthly installments.
Dr. Q Med Spa, headed by cosmetic surgeon Dr. Suzanne Quardt (Dr. Q) receives patients from Palm Springs, Palm Desert, Rancho Mirage, Beverly Hills, CA, and nearby areas for varicose vein treatments.
Contact Dr. Q Medical Spa and Schedule a Consultation with California Board Certified Plastic Surgeon, Dr. Suzanne Quardt (Dr. Q on Dr. 90210)
For more information on Plastic Surgery and Non-Surgical Medical Spa Procedures and Treatments, please contact the offices of Board Certified Plastic Surgeon Dr. Suzanne Quardt (Dr. Q) by clicking here or calling 760-324-2660.
Dr. Q receives patients from Palm Springs, Palm Desert, Rancho Mirage, Beverly Hills CA, and other Southern California areas.