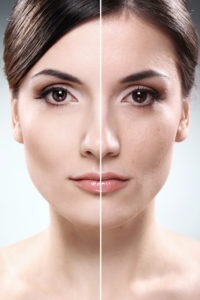 Laser skin resurfacing is an advanced non-surgical way to rejuvenate the skin and eliminate certain skin imperfections. A laser treatment expert can perform the procedure with high precision to achieve targeted results in a safe and gentle manner. Dr. Q Medical Spa provides cutting edge laser skin resurfacing treatments to patients in Palm Springs, Palm Desert, Rancho Mirage, and surrounding communities.
Advanced Laser Technology
Laser based skin resurfacing procedures have grown in popularity in recent years. A number of proven and advanced laser technologies are available today. Dr. Q recognizes the need to use the next-generation laser technologies in order to deliver the best outcomes to her patients. Dr. Q medical spa is equipped with the Artisan Aesthetic System.
This system includes a 1540 nm or 1440 nm non-ablative fractional laser as well as a 2940 nm ablative fractional laser for skin resurfacing. It additionally includes a MaxG optimized light hand-piece for the treatment of pigmented and vascular lesions. The manufacturer Palomar has received FDA clearance to use both ablative and non-ablative fractional lasers during the same treatment session for synergistic impact.
This unique combination of skin resurfacing and photofacial technologies allows Dr. Q and her team to customize the skin rejuvenation regimen according to the individual needs of a patient. The flexibility between ablative and non-ablative techniques ensures that optimal results are obtained while safeguarding the health and well-being of a patient.
Key Treatments
Advanced laser skin resurfacing treatments at Dr. Q med spa include the following:
Deep Aging Lines
Deep wrinkles and creases in the facial area as well as significant irregularities of the skin texture can be improved with 2940 ablative fractional laser treatment. This is a powerful laser treatment to correct major aging lines.
Mild to Moderate Aging Signs
Mild to moderate facial wrinkles and fine lines can be treated with 1540 non-ablative fractional laser technique. This is a gentler alternative to ablative lasers, and causes no harm to the surrounding healthy tissue while rejuvenating the targeted areas of the skin.
Lesions and Pigmentation
Vascular and pigmented lesions and patches of darkened skin or abnormally lightened skin can be treated with MaxG Optimized Light Hand-piece. Patients suffering from hyper or hypo pigmentation can benefit from this treatment.
Sun Damaged Skin
The multi wavelength platform of the Artisan laser targets sun damaged skin by focusing on the damaged tissue. The laser beam will penetrate into the deeper layers to eliminate the damaged skin cells and trigger the body's natural healing response. This will help in the formation of new collagen and renewal of healthy skin cells.
Common Skin Concerns Treated
The state of the art laser technologies used at Dr. Q's med spa have the ability to target and correct a wide range of skin concerns. These include:
Stretch marks (Striae)

Lax, loose, or sagging skin

Scars (surgical, injury, or acne-related)

Pigmented lesions and photo-aged skin

Aging signs (fine lines and wrinkles)

Uneven skin tone

Rough, dry, scaly skin texture

Acne and clogged/enlarged oil glands and pores
Dr. Q receives patients from Palm Springs, Palm Desert, Rancho Mirage, and nearby areas for laser skin resurfacing procedures.
For more information on Plastic Surgery and Non-Surgical Medical Spa Procedures and Treatments in the Rancho Mirage, Palm Springs, Palm Desert and surrounding areas please contact the offices of Board Certified Plastic Surgeon Dr. Suzanne Quardt (Dr. Q) by clicking here or calling 760-324-2660.