Sylfirm X – RF Microneedling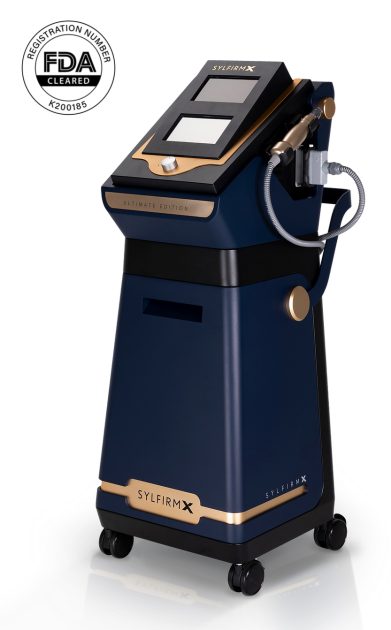 Sylfirm X is the first FDA cleared radiofrequency (RF) micro-needling procedure which makes use of continuous wave and pulsed wave (dual wave technology) for scars, skin rejuvenation, vascular and pigmented lesions, such as redness, melasma, and rosacea.
There are 8 different modes in Sylfirm X that allows it be customized for treating different sites and skin conditions. In addition, the device has the widest depth range among micro-needling RF systems at 0.3 – 4.0mm.
Dr. Q Medical Spa, led by board certified plastic surgeon Dr. Suzanne Quardt (Dr. Q), provides Sylfirm X RF microneedling for skin rejuvenation to patients in Palm Springs, Palm Desert, Rancho Mirage, Beverly Hills, CA, and surrounding locations.
Sylfirm X Mechanism
Sylfirm X makes use of radiofrequency (RF) micro-needling. This is a minimally invasive procedure which delivers radiofrequency through microneedles. Controlled micro-injuries are made on the skin by microneedling that stimulates collagen production and wound healing. The needle helps in breaking down scar tissue as well.
Microneedles are used for delivering RF energy to the skin. It generates heat at 104-140°, which causes protein denaturation and coagulation leading to contraction and inflammation. This further begins the wound healing response that promotes collagen production.
Tightening Skin and Treating Pores with Sylfirm X
Enlarged pores can be tightened by Sylfirm X med spa treatment. They can be used for diminishing the appearance of wrinkles and fine lines on the face. RF energy is delivered at 131-140° within the dermal layer by using the continuous wave motion. Patients can almost immediately notice skin contractions.
Melasma
The device can treat pigmentation, such as rosacea and melasma by using pulsed wave mode. Hyperactive melanocytes, abnormal blood vessels, damaged epidermis base layer, and reduced collagen can cause melasma. Sylfirm X helps in strengthening the base epidermis layer, removing abnormal blood vessels, and regulating melanin production to treat the root cause of melasma.
Other conditions
The RF microneedling med spa procedure can be used for treating acne, rosacea, and acne scars. It can be used for rejuvenating the skin in the neck, decolletage, and double chin.
Sylfirm X Procedure
Numbing cream will be applied by the treatment provider before the treatment begins. Needles will be inserted smoothly using a stamping technique that prevents pain, bruising and bleeding. Each session lasts for about 30 minutes.
Suitable Candidacy
This treatment is for:
Pigmentation – Rosacea and melasma
Skin rejuvenation: Wrinkles, enlarged pores, rhytides, fine lines, and skin laxity
Scars: Atrophic scars, acne scars, stretch marks, and hypertrophic scars
Body rejuvenation: Double chin, turkey neck, and decolletage
Sylfirm X microneedling is suitable for all genders and age groups since it makes use of both short and long pulses for customizing to different conditions.
Number of Sessions Required
You should be able to notice visible improvement on your skin after just a single treatment session. Experts recommend getting up to 4 treatments depending on the skin condition and type.
Side Effects and Downtime
You may experience swelling and slight redness following the treatment. This should subside on its own after a few hours. There is minimal to zero downtime in the procedure. Dr. Q Medical Spa receives patients from Palm Springs, Palm Desert, Rancho Mirage, Beverly Hills, CA, and nearby areas for Sylfirm X RF microneedling skin rejuvenation treatments.
Contact Dr. Q Medical Spa and Schedule a Consultation with California Board Certified Plastic Surgeon, Dr. Suzanne Quardt (Dr. Q on Dr. 90210)
For more information on Plastic Surgery and Non-Surgical Medical Spa Procedures and Treatments, please contact the offices of Board Certified Plastic Surgeon Dr. Suzanne Quardt (Dr. Q) by clicking here or calling 760-324-2660.
Dr. Q receives patients from Palm Springs, Palm Desert, Rancho Mirage, Beverly Hills CA, and other Southern California areas.