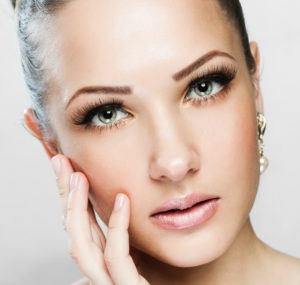 It is not possible to escape the ill-effects of time, sun, and environmental exposure on the skin, especially the delicate and exposed skin of the face and hands.
Dr. Q Medical Spa, led by board certified plastic surgeon Dr. Suzanne Quardt (Dr. Q), provides advanced skin care med spa treatments to patients in Palm Springs, Palm Desert, Rancho Mirage, and surrounding locations.
CO2RE Laser Skin Resurfacing – Treatment Modes
The CO2RE system consists of six diverse treatment modes for maximum versatility:
CO2RE Light: Suitable for a more superficial treatment targeted at the outer layer of the epidermis.
CO2RE Mid: This treatment offers a slightly stronger fractional ablative effect, going deeper into the dermis.
CO2RE Deep: Goes into the dermis for the deepest fractional ablative effect.
CO2RE Fusion: It is a unique blend of intensity and depth to optimize the treatment of both the dermis and epidermis at the same time.
PLUS:
How does CO2RE work?
CO2RE offers a multi-wavelength platform meant to target aging and sun-damaged skin by focusing on damaged tissue.
Once the laser beam penetrates to exact depths beneath the surface of the skin, the compromised skin cells are delicately eliminated, and the natural healing response of the body is triggered.
This accelerates the generation of collagen and the development of new, healthy skin cells. This cutting-edge laser technology is capable of targeting and correcting a wide spectrum of skin issues, including damage due to sun exposure.
Dr. Q and her team use the multi-purpose functionality of the CO2RE system to carefully create a skin rejuvenation plan tailored to the patient's unique needs, including the exact level of ablative and/or non-ablative fractional treatment to accommodate the patient's personal choice on speed of treatment, downtime, and the number of sessions desired.
Benefits of Laser Resurfacing
Patients typically choose to receive laser skin resurfacing as an alternative to expensive, invasive surgical procedures. Unlike surgery, laser resurfacing treatments:
Cause minimal (if any) discomfort

Are very precise procedures, treating only the designated skin area. This prevents skin lightening (hypopigmentation) or damage to the surrounding tissues.

Consistently and quickly create excellent clinical results

Present a low risk of treatment complications

Require minimal (if any) post-treatment downtime

Are safe and suitable for all types of skin
Other Treatments for Sun Damage
Dr. Suzanne Quardt (Dr. Q) is a board certified surgeon who provides patients suffering from sun damage on their skin with cutting-edge solutions. The below mentioned skin rejuvenation treatments are non-surgical, can be performed in less than an hour, and have been shown to be helpful in treating the adverse effects of sun damage to create more even-toned skin.
IPL Photofacial
Intense pulsed light (IPL) photo facials are suitable for patients with dyschromia, which is a skin condition characterized by abnormal changes of color (pigment) on the skin, such as hyperpigmentation (melasma/dark patches on the skin) and hypopigmentation (vitiligo/light patches on the skin).
Medical Grade Skincare Products
Dr. Q Plastic Surgery offers various robust, pharmaceutical-grade at-home skincare products from leading skincare brands such as mybody, VisãoMD, and SkinMedica.
These powerful products are formulated with a proven balance of patented active ingredients to correct pigmentation irregularities. At the same time, these products firm, smooth, and rejuvenate skin for a more youthful, dazzling appearance.
Cosmetic surgeon Dr. Suzanne Quardt (Dr. Q) receives patients from Palm Springs, Palm Desert, Rancho Mirage, and nearby areas for proven and innovative skin care med spa solutions.
For more information on Plastic Surgery and Non-Surgical Medical Spa Procedures and Treatments in the Rancho Mirage, Palm Springs, Palm Desert and surrounding areas please contact the offices of Board Certified Plastic Surgeon Dr. Suzanne Quardt (Dr. Q) by clicking here or calling 760-324-2660.