VelaShape is an advanced, non-invasive body contouring technology available today. VelaShape med spa treatment can effectively reduce cellulite, tighten and firm the skin, and reduce the circumference for various areas of the body including the thighs, arms, butt, or abdomen.
Furthermore, VelaShape dramatically enhances the texture and tone of the skin giving the skin a brighter and more youthful appearance.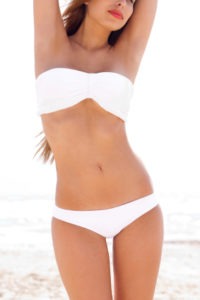 VelaShape can help people who are unhappy with their body due to changes caused by childbirth or aging. This treatment is an excellent complement to a healthy lifestyle and can increase the dermis density by encouraging the production of collagen for tauter, thicker, and more youthful skin.
Dr. Q Medical Spa, led by board-certified plastic surgeon Dr. Suzanne Quardt (Dr. Q) provides VelaShape cellulite treatment to patients in Palm Springs, Palm Desert, Rancho Mirage, and surrounding locations.
Collagen Generation for Extended Results
In addition to contouring the body and reducing cellulite, VelaShape also encourages blood flow and circulation, improves lymphatic drainage including the process of detoxification, enhances collagen production (vital for younger looking skin) and improves the metabolism at a cellular level.
This enables skin rejuvenation outcomes to look more natural and sustain for a longer duration. New collagen continues to improve results from within, and enables the skin to keep looking smoother and more youthful for an extended time period.
Average Length of the Results
VelaShape med spa procedure does not treat cellulite permanently. Treatments to make cellulite disappear for a more extensive duration are very few. VelaShape lasts, on an average, between six months to one year. However, this will depend on the patient's lifestyle.
If the patient follows a healthy lifestyle including regular exercise and a balanced diet, then the outcomes of the treatment will sustain longer than in someone who does not follow a healthy regimen.
In fact, it is vital for patients to understand that Velashape is not a substitute for diet and exercise. In case the patient wants to avoid cellulite, the ideal way is through taking care of their body. However, if the patient experiences cellulite despite following a healthy lifestyle, then VelaShape can help them attain their desired appearance in combination with a continued balanced diet and exercise regimen.
VelaShape only shrinks and does not eliminate fat cells. Therefore, it is vital to maintain a balanced diet to make sure that the outcomes of the treatment sustain for a more extended period. People who consume more calories than they burn could see a decline in their improvement over time.  
Follow-up Treatments for More Sustainable Results
The body contouring outcomes by VelaShape can be made to last longer as long as the patient maintains a stable weight, follows a balanced diet and has an active lifestyle.
In case the patient experiences minor weight fluctuations after the treatment, the extra weight will be distributed more evenly over the body rather than in specific areas. There is no cure for cellulite. However, regular touch up sessions will help maintain the initial treatment outcomes.
Dr. Q Medical Spa receives patients from Palm Springs, Palm Desert, Rancho Mirage, and nearby areas for VelaShape med spa cellulite treatment.
For more information on Plastic Surgery and Non-Surgical Medical Spa Procedures and Treatments in the Rancho Mirage, Palm Springs, Palm Desert and surrounding areas please contact the offices of Board Certified Plastic Surgeon Dr. Suzanne Quardt (Dr. Q) by clicking here or calling 760-324-2660.