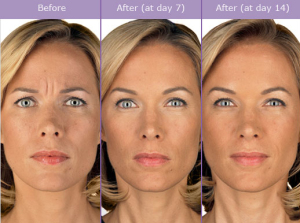 Botulinum toxin type A, commonly known as Botox, is a clean and proven treatment to mitigate signs of aging from specific areas of the face. Botox med spa injections may be appropriate for healthy people above the age of 18 who are bothered by the appearance of facial wrinkles and fine lines due to aging effects, heredity factors, disease, or repetitive facial movement.
Individuals with mild to moderate wrinkles and lines on the face are more suited for Botox because botulinum neurotoxin can work to relax the wrinkle forming muscle and soften the wrinkle on the skin surface. The candidate should be aware that the results with Botox are temporary and the treatment may have to be repeated in future for extended benefits. Dr. Q medical spa provides Botox to patients in Palm Springs, Palm Desert, Rancho Mirage, and surrounding locations.
Candidacy Requirements
Ideal candidates for Botox will usually be between the ages of 18 and 65, and having good general health with no history of neuromuscular diseases. If the patient has fairly thick natural skin, or suffers from deep facial scars, asymmetry of the face, or ptosis which causes droopy eyelids, they may benefit from alternatives such as cosmetic filler injections rather than Botox.
Botox med spa treatment will work successfully where overactive underlying facial muscles are causing wrinkle formation. But if the wrinkles are caused due to sinking or weakening of the soft facial tissue, or due to loss of facial volume, Botox may not be effective. For instance, deep nasolabial folds extending from the sides of the nose to the corners of the mouth are best treated with dermal fillers or grafting rather than Botox.  
Reasonable Expectations
Patients with realistic and reasonable expectations will typically make good candidates for Botox injections. They will be required to share their health records, and inform the treatment provider about any habits such as smoking. They will also have to provide information about all types of medications, including herbal supplements and vitamins that they may be currently using. Instructions of the provider in such cases must be carefully followed.
The candidate should have a clear idea beforehand that the results with Botox can vary between two patients. Some patients will have a better response, especially if they have received Botox treatments in the past. In exceptional cases, the improvement with Botox may be insignificant, and an alternative treatment may be required. The candidate should freely discuss their expectations with the provider and choose Botox only if they are ready for it.
Who is not a Candidate?
Patients with one or more of the following conditions may not be suitable candidates for Botox:
Allergy to one of the Botox ingredients

Suffered from side effects of Botox or a variant previously

Suffering from an untreated skin infection in the injection site

Having asthma or bleeding problems

Having recently been through facial surgery
Pregnant or nursing women should also avoid Botox injections. Dr. Q medical spa receives patients from Palm Springs, Palm Desert, Rancho Mirage, and nearby areas for Botox.

For more information on Plastic Surgery and Non-Surgical Medical Spa Procedures and Treatments in the Rancho Mirage, Palm Springs, Palm Desert and surrounding areas please contact the offices of Board Certified Plastic Surgeon Dr. Suzanne Quardt (Dr. Q) by clicking here or calling 760-324-2660.