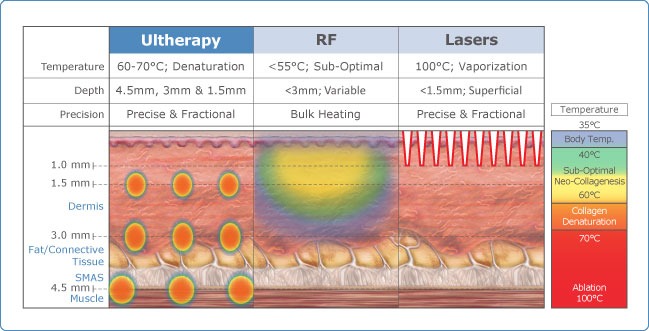 Ultherapy is a safe and proven non-surgical skin tightening treatment for people who are displeased about lines and sagging skin but do not want to undergo a surgical procedure.
Ultrasonic technology forms the basis of Ultherapy, enabling this med spa treatment to be gentler on the skin in comparison to lasers and other more aggressive surgical or non-surgical procedures.
Patients can even undergo Ultherapy treatment in sensitive skin areas such as the face, neck, chin, and eyebrows.
Dr. Q Medical Spa, led by board certified plastic surgeon Dr. Suzanne Quardt provides Ultherapy skin tightening to patients in Palm Springs, Palm Desert, Rancho Mirage, and surrounding locations.
Non-Invasive Skin Lift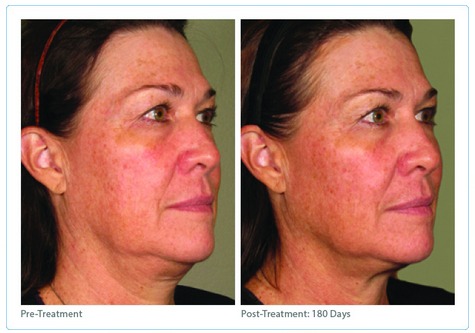 Ultherapy is one of the first non-surgical ultrasound procedures to attain FDA-clearance for skin lift. This treatment is designed to tighten the skin in areas that have experienced elasticity loss due to aging, disease, sun damage, environmental factors, gravity, or genetic reasons.
The neck, face, and décolletage are examples of such areas. Ultherapy provides the skin with structural support from within to create longer lasting and natural looking skin tightening results without the involvement of plastic surgery.
Procedure
The treatment provider places a smooth applicator over the patient's skin in the treatment site. This applicator delivers ultrasound energy on the area to heat up excess fat deposits in the underlying layers of the skin. The energy promotes the production of fresh collagen to firm up the skin.
This process tightens the skin from within in a natural way without any adverse impact on the outer skin. The use of ultrasound energy enables the surgeon to view the underlying fat deposits and tissue to achieve excellent results in a targeted manner.
Benefits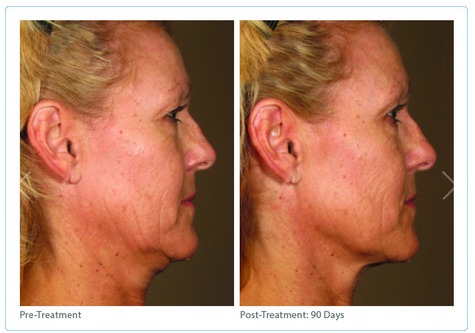 People seeking a safe and effective alternative to plastic surgery may consider Ultherapy. The key benefits of this treatment include:
The patient can enjoy significant skin lifting and tightening results after only one session, unlike other non-invasive procedures that usually warrant numerous sessions.

The ultrasound energy is delivered in a precise and controlled manner. This prevents damage to the surrounding healthy tissue.

The results are longer lasting and more natural looking as the ultrasound energy penetrates into the skin layer to produce tissue tightening from within.

Ultherapy addresses issues related to skin tone and texture and corrects skin imperfections due to sun damage.
Ultherapy promotes the natural production of new collagen within the deeper skin layers to firm, lift, and tone loose and sagging skin around the neck, face, eyebrows, and chin. The med spa procedure does not involve anesthesia or foreign substances and does not have a specific downtime. Ultherapy results can last for many years.
This treatment is also suitable for busy moms and working professionals who typically do not want to undergo procedures involving significant downtime. Ultherapy does not involve cuts, incisions, needles, or pain. It does not cause scarring, and the post-treatment recovery is quick.
Dr. Q Medical Spa receives patients from Palm Springs, Palm Desert, Rancho Mirage, and nearby areas for Ultherapy skin tightening.
For more information on Plastic Surgery and Non-Surgical Medical Spa Procedures and Treatments in the Rancho Mirage, Palm Springs, Palm Desert and surrounding areas please contact the offices of Board Certified Plastic Surgeon Dr. Suzanne Quardt (Dr. Q) by clicking here or calling 760-324-2660.