XEOMIN Injections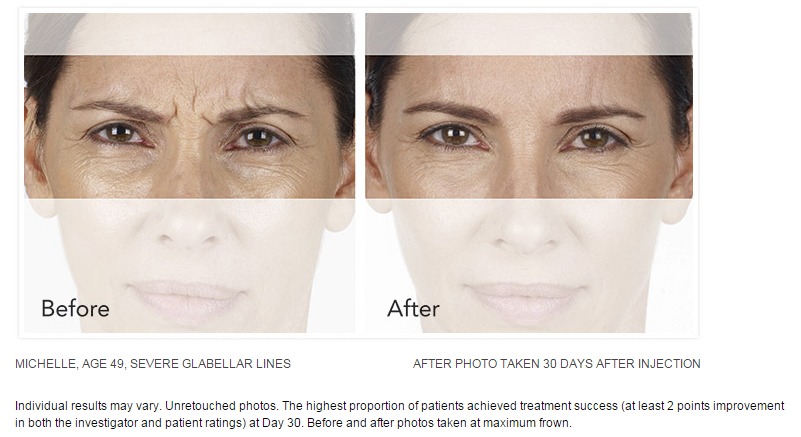 Frown lines form because underlying facial muscles contract when you make certain expressions. As your skin ages, over time, these repeated expressions create lasting frown lines. Xeomin is a popular neurotoxin which can block the release chemicals responsible for causing muscle contractions.
Board certified plastic surgeon Dr. Suzanne Quardt (Dr. Q) provides Xeomin anti-wrinkle injection treatments to patients in Palm Springs, Palm Desert, Rancho Mirage, Beverly Hills, CA, and surrounding locations.
Safe and FDA Approved Treatment
Xeomin is FDA approved for the treatment of adults suffering from moderate to severe frown lines in between their eyebrows. It is also a prescription medication for adults with blepharospasm or cervical dystonia. Botulinum toxin A is the main ingredient in Xeomin which is made from the same bacteria that is responsible for botulism.
Botulinum toxin helps in blocking nerve activity within the muscles causing a temporary reduction in activity. The FDA approved Xeomin based on two clinical trial results held in the US and the Journal of Neurological Sciences published a study on the safety and efficacy of Xeomin. The study stated that Xeomin was "non-inferior" to Botox when used in similar doses for treating cervical dystonia.
Xeomin has also been approved for treating cosmetic indications, such as moderate to severe frown lines appearing between the eyebrows. Doctors have largely started using Xeomin for both on-label and off-label treatments now that the prescription medication is FDA-approved. It is used similarly to Botox® and Dysport® for treating crow's feet, forehead wrinkles, and frown lines.
Advantages of Xeomin
Xeomin is the first neurotoxin that doesn't require refrigeration before use. This goes a long way in simplifying distribution. It has no additives and is plain botulinum toxin type A. This means that there is lower risk of developing any antibodies against it as compared to other neurotoxins. Antibodies are the body's natural response to attacks and foreign invaders.
These antibodies can prevent the neurotoxin from having the desired effect. It takes a week for the effects of Xeomin to manifest. Results can last anywhere from 3 – 6 months. It's vital that Xeomin is not used interchangeable with other products containing botulinum.
How Xeomin Works
Xeomin is a prescription medication for improving the appearance of frown lines, forehead wrinkles, and crow's feet. It reduces the appearance of moderate to severe glabellar lines or frown lines in adults. When people squint or frown, their muscles between the brows contract. This causes the skin to develop folds and furrows over time. Sun exposure and aging may result sin persistent frown lines.
Xeomin is injected directly between the brows in the muscles. The neurotoxin acts quickly on muscle nerve endings to cause a temporary cut-off in all communication between the muscle and nerve ending. Your facial muscles will relax immediately, which will reduce the contractions. This will make the frown lines disappear or fade away completely from between the brows.
Cosmetic surgeon Dr. Suzanne Quardt (Dr. Q) receives patients from Palm Springs, Palm Desert, Rancho Mirage, Beverly Hills, CA, and nearby areas for Xeomin facial rejuvenation injection procedure.
Contact Dr. Q Medical Spa and Schedule a Consultation with California Board Certified Plastic Surgeon, Dr. Suzanne Quardt (Dr. Q on Dr. 90210)
For more information on Plastic Surgery and Non-Surgical Medical Spa Procedures and Treatments, please contact the offices of Board Certified Plastic Surgeon Dr. Suzanne Quardt (Dr. Q) by clicking here or calling 760-324-2660.
Dr. Q receives patients from Palm Springs, Palm Desert, Rancho Mirage, Beverly Hills CA, and other Southern California areas.