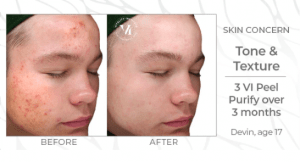 The VI Peel currently ranks as the number one chemical peel treatment for the face, neck, chest, and hands. This medium depth peel contains a custom blend of five powerful acids to deliver comprehensive facial rejuvenation results. You can expect a reduction in aging lines, diminished acne and acne scars, improvement in hyperpigmentation, brighter skin glow, and an overall refreshed look.
Dr. Q Medical Spa, led by board certified plastic surgeon Dr. Suzanne Quardt (Dr. Q), provides VI Peel treatments to patients in Palm Springs, Palm Desert, Rancho Mirage, and surrounding locations.
Combining VI Peel with Botox Injections
One of the many benefits of VI Peel med spa procedure is that it can help accelerate the effects of various other non-surgical treatments if they are performed in conjunction. Botox injectable procedure along with a VI Peel can produce more desirable and youthful facial appearance. You can safely undergo both VI Peel and Botox treatments during a single visit to Dr. Q Med Spa.
Our aesthetician will make sure that your first appointment of the day is the VI Peel treatment, which can be followed by a 15-minute Botox injection procedure the same day. The chemical peel procedure must always precede Botox in order to ensure safe and predictable results. Dr. Q will evaluate your candidacy for a combined Botox and VI Peel treatment before making this recommendation.
The VI Peel treatment will work at the top and medium skin layers to remove the imperfections from your face and even out your skin tone and texture. If your dynamic facial muscles are causing fine lines and wrinkles, the Botox medication can be injected directly into the overactive muscles smooth the aging lines. Depending on your skin condition and your personal goals, Dr. Q may schedule your Botox and VI Peel treatments the same day or a few days apart.
Other Aesthetic Med Spa Treatments with VI Peel
In addition to Botox, you may also have an opportunity to combine your VI Peel procedure with some other safe and proven med spa treatments. At Dr. Q Med Spa, we may recommend one or more of the following treatments apart from Botox to go with your VI Peel procedure:
Dermal Fillers:

You can combine FDA approved dermal filler injections along with VI Peel to add volume to the depleted areas of your face. Our treatment provider will first administer the facial filler injections, followed by VI Peel.

Microdermabrasion:

This is a unique facial rejuvenation treatment that will utilize a spray of tiny crystals to eliminate minor imperfections from your facial skin. You can receive microdermabrasion prior to your VI Peel treatment the same day.

Microneedling with PRP:

Based on your unique skin rejuvenation goals, our aesthetician at Dr. Q Med Spa may offer you a custom combination of VI Peel along with microneedling and PRP. Microneedling will be scheduled at least two weeks ahead of VI Peel.

Laser Skin Tightening:

You may be able to combine a mild laser facial rejuvenation treatment with a VI Peel. Our laser treatment specialist will schedule your laser procedure at least four weeks after your VI Peel. In this case, the VI Peel will prepare your facial skin for the laser treatment.
Dr. Q Medical Spa receives patients from Palm Springs, Palm Desert, Rancho Mirage, and nearby areas for VI Peel skin rejuvenation treatments.
Contact Dr. Q Medical Spa and Schedule a Consultation with California Board Certified Plastic Surgeon, Dr. Suzanne Quardt (Dr. Q on Dr. 90210)
For more information on Plastic Surgery and Non-Surgical Medical Spa Procedures and Treatments, please contact the offices of Board Certified Plastic Surgeon Dr. Suzanne Quardt (Dr. Q) by clicking here or calling 760-324-2660.
Dr. Q receives patients from Palm Springs, Palm Desert, Rancho Mirage, Beverly Hills CA, and other Southern California areas.