GET THE LONG, LUSH LASHES YOU DESIRE WITH LATISSE®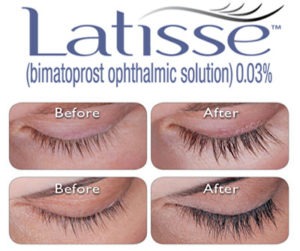 Cosmetic trends often shift and change over the years; however, thick, voluminous lashes have remained one of the most sought after aesthetic features, likely because full, dark lashes serve to enhance the beauty of the eyes and face as a whole. Although they are often thought of in terms of their cosmetic benefits, our eyelashes serve important health functions as well:
The eyelashes protect our eyes from the damaging effects of UV rays, dust, pollution, wind, and other external irritants
A touch to the eyelashes instinctively causes the eye to close, providing further protection from foreign objects
Individuals with inadequate or sparse eyelashes (hypotrichosis) lack this protective functionality, which leaves their eyes vulnerable to injury and irritation. Eyelash hypotrichosis is primarily a genetic condition, but may also develop:
During the natural aging process
As a side effect of chemotherapy or illness
As a result of physical injury to the eye
As a complication of the obsessive compulsive disorder known as trichotillomania
Bimatroprost ophthalmic solution (brand name Latisse®) is the first and only FDA-approved, prescription-strength medication designed to target and correct eyelash hypotrichosis. It is believed that Latisse® works to increase the length of the anagen (hair growth phase) of the eyelashes while simultaneoulsy boosting the number of hairs produced during this growth cycle. With appropriate and consistent use, Latisse® is proven to encourage the growth of darker, fuller, and longer eyelashes, as evidenced by the clinical studies showing:
106% increase in lash thickness/fullness
25% increase in lash length
18% increase in lash darkness.
At Dr. Q™ Medical Spa, located in Rancho Mirage, CA, Board Certified plastic surgeon Dr. Suzanne Quardt (Dr. Q™) is pleased to offer Latisse® to patients suffering from hypotrichosis, or to those who are simply seeking to safely transform their short, meager lashes into luxurious lashes that look glamorously beautiful even without mascara (and without causing any annoying clumping, smudging, or "raccoon eyes")!
LATISSE APPLICATION: SIMPLE STEPS, REMARKABLE RESULTS!
Although you will apply the Latisse® solution in the comfort of your own home each night, Dr. Q™ will give you clear instructions about proper application and usage, and will be available to answer any questions that may arise. You will apply Latisse® to the base of the upper eyelid lash margin (not the lower eyelid) once a day (applying it more frequently will not increase its efficacy). When used as directed, after one month you will notice gradual thickening, lengthening, and darkening of your lashes, and your results will peak after four months. If you stop using Latisse®, your lashes will gradually return to their original appearance over the next several weeks or months. Potential, albeit rare, side effects include itchy/red eyes and a possible increase in brown pigmentation of the iris.
CONTACT DR. Q™ MEDICAL SPA
Situated in beautiful Rancho Mirage, California, Dr. Q™ Medical Spa has become an oasis for patients seeking a tranquil reprieve from the chaotic pace of everyday life while receiving non-invasive, yet highly-effective skin rejuvenation and body contouring treatments. Unparalleled patient care is the foundation of Dr. Q™'s cosmetic surgery practice, and she extends this exceptional level of service, attentiveness, and commitment to client satisfaction to her medical spa, where she offers a variety of customizable treatments designed to accommodate her patients' diverse needs and aesthetic goals.
If would like additional information about Latisse®, or any of our non-invasive skin Re-Q-Venating treatment options, please contact Dr. Q™ Medical Spa today. We look forward to speaking with you, and to scheduling your initial consultation with Dr. Q™.