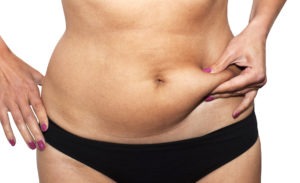 There are certain "problem areas" in the body that may refuse to shrink, lift, or tighten even with best efforts to lose weight and live in a healthy manner.
Body contouring treatments refer to specialized cosmetic services meant to target these problem areas (i.e., abdomen, flanks, buttocks, thighs, and arms).
Dr. Q Medical Spa, led by board certified plastic surgeon Dr. Suzanne Quardt (Dr. Q) provides skin tightening solutions to patients in Palm Springs, Palm Desert, Rancho Mirage, and surrounding communities.
Who should Choose Non-Invasive Skin Tightening
Some of the proven and safe non-invasive med spa procedures will firm up and tighten the skin, and are especially helpful for patients seeking to:
Remove stubborn fatty pockets

Streamline the contours of the body

Tone, tighten, or sculpt the skin

Correct the appearance of drooping or sagging excess skin
There are various effective surgical body-contouring procedures, such as liposuction, abdominoplasty, and body lift, available to patients.
However, many patients are deterred by the cost, invasiveness, and downtime involved in such procedures. For these candidates, non-invasive skin tightening solutions could be an attractive option.
Cellulite Reduction with VelaShape III
A traditional body contouring surgery does not treat the problem of cellulite, which remains a common aesthetic concern among patients of all sizes and shapes.
Cellulite develops when subcutaneous fat cells, which are located just beneath the surface of the skin, expand and start to protrude in an upward direction. This leads to unappealing skin dimpling and the dreaded "orange peel" appearance of the skin.
Products that promise cellulite reduction and offer "miraculous" outcomes are almost always disappointing as these treatments are meant to function on at the superficial level. For a body contouring treatment to be truly effective, it must address the cellulite at its source, which is underneath the skin's surface.
Dr. Suzanne Quardt is an experienced, board-certified plastic surgeon who understands the science behind effective fat removal techniques. The Dr. Q Medical Spa facility is equipped with the VelaShape III workstation.
This advanced, non-surgical technology uses the power of bi-polar radio frequency (RF), infrared (IR) technology, vacuum tissue manipulation, and mechanical tissue manipulation. It has created dramatic body-sculpting outcomes in multiple clinical trials and more than 3.5 million independent procedures.
Benefits of VelaShape III
The VelaShape III system is an improvement on earlier body shaping protocols, and features the following:
Reduces the overall treatment time

Creates consistent, reproducible outcomes

Enables more precise, targeted fat reduction
In the comfortable, individualized VelaShape III treatment, the temperature of the fatty tissue is accurately raised to the most effective treatment depths (up to 3 mm and 15 mm). This warming effect leads to the following:
Enhanced lymphatic drainage, cellular metabolism, and circulation

Taut and smooth skin texture

Improved collagen production

Reduction in skin laxity (sagging, looseness)

Decrease in the circumference and volume of the targeted treatment area by a minimum of two cm (after only three treatment session)

Minimizes the appearance of cellulite
VelaShape III body contouring med spa treatments are safe and predictable for use on all types of skin. A majority of patients report that the experience is entirely painless.
Many patients report that the treatment feels similar to a warm, deep tissue massage. Patients can return to their routine activities right after their VelaShape III session, and will not need any post-treatment downtime.
The foundation of Dr. Q's cosmetic practice is individualized care. Dr. Q offers top-notch service, attentiveness, and commitment to patient satisfaction at her med spa.
She provides patients with a wide range of customized non-invasive treatments, such as VelaShape III, to cater to their unique aesthetic goals and desires.
Dr. Q Medical Spa receives patients from Palm Springs, Palm Desert, Rancho Mirage, and nearby areas for skin tightening treatments. For more information on Plastic Surgery and Non-Surgical Medical Spa Procedures and Treatments in the Rancho Mirage, Palm Springs, Palm Desert and surrounding areas please contact the offices of Board Certified Plastic Surgeon Dr. Suzanne Quardt (Dr. Q) by clicking here or calling 760-324-2660.