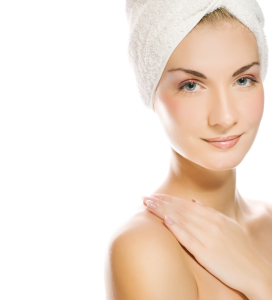 Acne scars can adversely impact the youthful facial appearance. If left untreated, these scars may last for a lifetime. It is possible to treat certain types of acne scars with non-surgical med spa treatments.
Dr. Q Medical Spa, led by board certified plastic surgeon Dr. Suzanne Quardt provides acne scar treatments to patients in Palm Springs, Palm Desert, Rancho Mirage, and surrounding locations.
Skin Resurfacing Treatments to Improve Acne Scars
The Palomar multi-wavelength laser system delivers ablative as well as non-ablative energy to resurface damaged skin and improve the appearance of acne scars.
Similarly, Cosmelan offers the cutting-edge eMatrix Complete Sublative Rejuvenation system (powered by RF energy) to soften the appearance of acne and injury-related scarring. These treatments not only reduce the appearance of scars but also rejuvenate the skin by improving textural unevenness.
The eMatrix system is not a laser or light-based treatment. In fact, it delivers targeted fractionated bi-polar radio frequency (RF) heat energy to the dermis (inner skin layers) to rejuvenate the tissue in the area.
Effectively, this treatment will "jump start" the body's healing process and promote the production of fresh collagen without damaging the superficial skin surface. For this reason, eMatrix leads to minimal post-treatment downtime.
Laser-based skin resurfacing procedures use fractionated laser technology to enhance the surface of the skin. Laser energy promotes the development of new skin cells to fill in areas of acne scarring. While ablative lasers aggressively work on the scar, non-ablative lasers promote the production of collagen without damaging the skin's surface.
Palomar's IPL (intense pulsed light) photo facials are an excellent treatment for elevated and discolored scars as well as textural irregularities on the surface of the skin.
Injectable Dermal Fillers
Dermal filler injectables such as Juvederm, Restylane, and Perlane, can help fill the depressions and pockmarks due to deep acne scars.
Juvederm Voluma XC (Voluma)
Advanced HA-based dermal filler Juvederm Voluma is the only filler to receive approval from the FDA specifically to add volume to the depleted areas of the face.
For people unhappy with a gaunt, tired looking face, this is an excellent treatment. Voluma is especially effective in creating volume in three areas of the mid-face and cheek, namely the apex, the apple, and the hollow of the cheek.
Chemical Peels (Derma Peeling, Chemexfoliation)
Chemical peels rejuvenate skin in a noninvasive manner using chemical solutions to slough away damaged, discolored and scarred skin to reveal brighter, smoother skin with more even color and texture.
Cosmelan Peel
Cosmelan peel is often used in the treatment of irregular skin tone due to hyperpigmentation (sun spots, melasma, skin darkening) and other types of dyschromia (uneven skin pigmentation). This peel inhibits the development of tyrosinase which is an enzyme that helps produce melanin. Melanin gives the skin its color (pigment).
Furthermore, this peel creates a smoother skin appearance and has been proven to soften the appearance of acne and injury-related scarring on the face.
Pharmaceutical Strength Skincare Products
Dr. Q med spa offers bioCorneum+, which is an advanced at-home scar treatment. This cutting-edge silicone scar treatment is available to patients only through plastic surgeons and dermatologists. This highly effective treatment comprises SPF 30 as well as active components that prevent the formation of scars while softening the appearance of existing scars significantly.
These treatments are designed with powerful ingredients to improve textural irregularities such as scarring while brightening, toning, and smoothing skin simultaneously.
Dr. Q Medical Spa receives patients from Palm Springs, Palm Desert, Rancho Mirage, and nearby areas for acne scar treatments.
For more information on Plastic Surgery and Non-Surgical Medical Spa Procedures and Treatments in the Rancho Mirage, Palm Springs, Palm Desert and surrounding areas please contact the offices of Board Certified Plastic Surgeon Dr. Suzanne Quardt (Dr. Q) by clicking here or calling 760-324-2660.