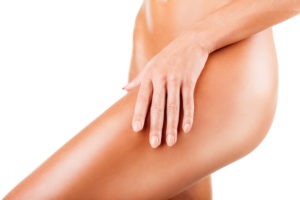 The effects of aging will cause a gradual decline in your estrogen levels, while the loss of collagen and elastin fibers in the deeper skin tissue will also occur. These effects may lead to vaginal looseness and thinning of the vaginal walls, and even reduction in your natural vaginal lubrication.
When combined with other physiological and emotional effects of childbirth, hormonal fluctuations and menopause, these changes can adversely impact your sexual satisfaction and comfort. Over time, this can contribute to a reduced sexual urge.
These conditions can be effectively improved or reversed with CO2RE Intima laser treatment, which will rejuvenate your vaginal appearance and enhance sexual stimulation.
Dr. Q Med Spa, led by board certified plastic surgeon Dr. Suzanne Quardt, provides safe and proven cosmetic laser treatments to patients in Palm Springs, Palm Desert, Rancho Mirage, and surrounding locations.
New Collagen Growth in the Vaginal Tissue
The controlled heat energy generated through CO2RE Intima laser therapy will promote the production of fresh collagen fibers in all areas of your vaginal tissue. New collagen formation will help you achieve a volumized and tightened appearance of the vagina, increase vaginal lubrication, address urinary incontinence, and enhance your sexual performance and pleasure.
These effects will occur naturally as the laser treatment process stimulates your vaginal tissue on a cellular level. Once you start experiencing better comfort and satisfaction during sexual activity, it will gradually improve your libido and reinforce your sexual urge for a more satisfying sex life.
Advantages of Vaginal Rejuvenation with CO2RE Intima
With CO2RE Intima laser treatment, you can achieve your sexual satisfaction goals in a minimally invasive way and without have to undergo any significant downtime or discomfort. Increased sexual stimulation will boost your personal confidence and contribute to a healthier and happier life and relationships.
Improved Continence
With CO2RE Intima vaginal rejuvenation, women who are struggling with urinary incontinence may experience noticeable improvement in their condition.
Enhanced Tone and Tightness
Collagen formation gets stimulated with CO2RE Intima laser therapy, which will make your vaginal tissue tighter and improve muscle tone. This can increase your sexual satisfaction and ability to achieve orgasm.
Improved Sexual Satisfaction
Sexual satisfaction and libido can get adversely affected with hormonal fluctuations, childbirth and the natural forces of aging. Vaginal rejuvenation with CO2RE laser will encourage your body to become more responsive and energize your sex life.
Lighter Pigmentation
Skin pigmentation in the labia and vulva tissue areas can become darker than the rest of the skin over the years. CO2RE will lighten the treated areas to create a more balanced look and even out the skin tone.
Vaginal Lubrication
The vagina may suffer from loss of natural lubrication over time, which will adversely impact your comfort as well as sexual urge. With CO2RE Intima laser skin resurfacing, vaginal dryness can be correct to restore the natural comfort and lubrication in your intimate areas.
Tightened Skin
Skin laxity in and around the vagina is a common source of frustration among women. A skilled laser provider can use CO2RE Intima to tighten the labial skin, fourchette region, and clitoral hood to promote your overall sexual aesthetics and satisfaction.
Dr. Q Med Spa receives patients from Palm Springs, Palm Desert, Rancho Mirage, and nearby areas for cosmetic laser treatments.
For more information on Plastic Surgery and Non-Surgical Medical Spa Procedures and Treatments in the Rancho Mirage, Palm Springs, Palm Desert and surrounding areas please contact the offices of Board Certified Plastic Surgeon Dr. Suzanne Quardt (Dr. Q) by clicking here or calling 760-324-2660.