Stretch Mark Removal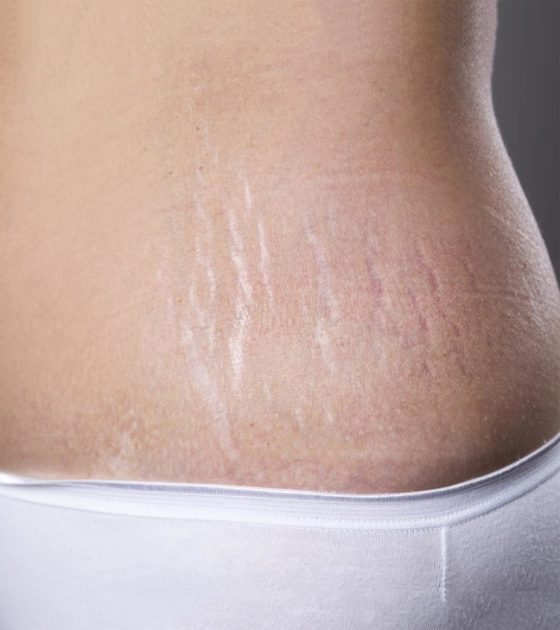 Striae or stretch marks are a hard fact of life for many women, especially after a pregnancy. However, you don't need to live with them just because they are considered normal. Laser stretch mark treatment is a safe, minimally invasive procedure that makes use of fractional laser light pulses for breaking down stretch marks and improving the skin appearance.
Dr. Q Med Spa, led by board certified plastic surgeon Dr. Suzanne Quardt (Dr. Q), provides stretch marks reduction treatments with lasers to patients in Palm Springs, Palm Desert, Rancho Mirage, Beverly Hills, CA, and surrounding locations.
Laser Treatments for Stretch Marks Reduction
Concentrated rays of light are targeted at the stretch marks in laser stretch mark removal medical spa procedure. This helps in stimulating new growth and smoothing the scars. Laser treatments are a type of skin resurfacing procedures that helps the skin to heal by creating a smoother texture. The treatment offers more successful results on newer stretch marks.
The pink and red color of newer stretch marks signal the presence of working blood vessels under the skin. This allows for better and quicker healing after the laser treatment. Older and white striae lack blood vessels making them difficult to treat. This is because there is lesser collagen production.
Advanced Laser Devices for Reducing Stretch Marks
There are mainly two types of laser medical spa treatments – ablative and nonablative. Erbium YAG and CO2 are ablative laser types useful for treating stretch marks. They remove the outer skin layers leaving smoother and newer skin underneath. The laser treatment stimulates collagen production and helps in smoothing the raised scars.
Erbium is used for surface stretch marks while CO2 helps with deeper scar marks. Fraxel laser is a type of nonablative laser that doesn't remove the top skin layer. It stimulates elastin and collagen production instead that helps the scars to fade and heal. Fraxel, like other lasers, works best on newer stretch marks. It offers golden results with older marks as well. However, the treatment is not recommended for darker skin tones.
Laser Treatment Procedure
It's vital to understand that you would need multiple sessions for achieving the maximum results from your laser skin treatment at a qualified medical spa. The number of sessions required depends on the severity of the stretch marks and the laser type being used.
Experts recommend getting at least 4 treatments within a few weeks for the best results. The procedure starts with an initial consultation with the treatment provider. They will go over your past medical history and any current medications you are on. They will also ask you about your aesthetic goals. A topical anesthetic will be used by the doctor for numbing the area when you return for the first session.
Minimal Risk of Side Effects with Non-Ablative Lasers
There are more side effects in case of an ablative laser. Healing time is shorter with fewer side effects in case of non-ablative lasers. You should see the stretch marks fading as the skin heals and the scabs fall away. The stretch mark scars will grow faint with repeat treatments.
Dr. Q Med Spa, led by cosmetic surgeon Dr. Suzanne Quardt, receives patients from Palm Springs, Palm Desert, Rancho Mirage, Beverly Hills, CA, and nearby areas for safe and established laser stretch marks removal treatments.
Contact Dr. Q Medical Spa and Schedule a Consultation with California Board Certified Plastic Surgeon, Dr. Suzanne Quardt (Dr. Q on Dr. 90210)
For more information on Plastic Surgery and Non-Surgical Medical Spa Procedures and Treatments, please contact the offices of Board Certified Plastic Surgeon Dr. Suzanne Quardt (Dr. Q) by clicking here or calling 760-324-2660.
Dr. Q receives patients from Palm Springs, Palm Desert, Rancho Mirage, Beverly Hills CA, and other Southern California areas.