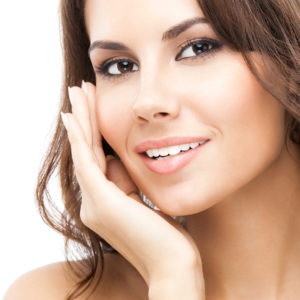 Laser skin resurfacing is an ideal non-surgical treatment to reduce wrinkles, fine lines, pigmentation issues, irregular skin texture and tone, acne scars, and other skin imperfections. Dr. Q Medical Spa in Palm Springs provides advanced laser skin resurfacing procedures with CO2RE, which is a cutting-edge laser technology.
Dr. Q Med Spa, led by board certified plastic surgeon Dr. Suzanne Quardt, provides safe and proven cosmetic laser treatments to patients in Palm Springs, Palm Desert, Rancho Mirage, and surrounding locations.
CO2RE – A High-Tech Laser Treatment
Dr. Q Med Spa is equipped to provide CO2RE laser skin resurfacing to renew your skin appearance in safe, non-surgical manner. CO2RE will precisely target both superficial and deeper skin layers to create a smoother skin appearance and even complexion.
The advanced CO2RE laser resurfacing device can reduce the effects of sun and wind damage, fight the superficial effects of aging on your skin, treat pigmentation and blemishes, while enhancing the skin tone and texture. If you are looking to achieve a more youthful skin appearance without surgery, laser skin resurfacing is one of the best treatment options for you.
How does it Work?
Your laser treatment expert will gently and precisely remove a tiny fraction of the top skin layer from the affected area to reveal new and youthful skin underneath.
While the damaged skin from the top is safely eliminated, the procedure also triggers the natural skin repair process and promotes the formation of new collagen fibers in the deeper tissue. Your skin will be volumized and appear more elastic to create a youthful look.
Within a few weeks after your CO2RE laser skin resurfacing procedure at Dr. Q Medical Spa, you will begin to notice visibly smooth and tightened skin. Pigmentation, scars, wrinkles and lines will be improved, and your skin will appear refreshed and renewed.
The results will continue to improve over several weeks and months as new collagen provides structural support and volume to your skin.
Choose the Right Laser Specialist
The skill and experience of your CO2RE laser skin resurfacing expert will make a difference to your final results. A highly experienced and trained provider can dramatically enhance your skin appearance.
But at the same time, you should be aware that advanced laser technologies are powerful, and a treatment such as laser skin resurfacing should never be performed by a poorly trained provider.
Your best bet would be to undergo this treatment at a qualified medical spa led by a board certified plastic surgeon. The surgeon will ensure that the same quality standards and best practices are applied to your laser skin resurfacing procedure that they follow for plastic surgery treatments.
Plan for Multiple Treatments
For mild skin issues, a single laser skin resurfacing treatment session may suffice. But if your aesthetic concerns are more complex, you can expect to achieve the most satisfying outcomes with a series of laser treatments.
Your discomfort and downtime will be minimal and the results will be more sustainable and natural looking when you work with the best laser med spa in your area. Dr. Q Med Spa receives patients from Palm Springs, Palm Desert, Rancho Mirage, and nearby areas for cosmetic laser treatments.
For more information on Plastic Surgery and Non-Surgical Medical Spa Procedures and Treatments in the Rancho Mirage, Palm Springs, Palm Desert and surrounding areas please contact the offices of Board Certified Plastic Surgeon Dr. Suzanne Quardt (Dr. Q) by clicking here or calling 760-324-2660.