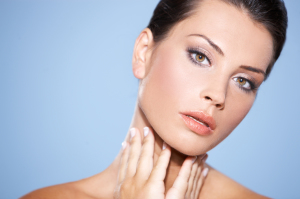 Fat accumulation in the neck and below the chin can make a person look overweight even if they are not. Combined with aging lines on the face and neck, these unwanted elements can compromise the overall contours and make a person look older than their actual age.
Candidates can choose between cosmetic surgery and non-surgical treatment options, or sometimes even combine the two for more effective results. Dr. Q's med spa, led by committed, salient, and board certified plastic surgeon Dr. Suzanne Quardt (Dr. Q) provides innovative and advanced non-surgical treatments to eliminate unwanted neck fat pockets and improve aging lines for patients in Palm Springs, Palm Desert, Rancho Mirage, and surrounding locations.
Botox and Dysport
Botox and Dysport are two of the most popular non-surgical anti-aging facial procedures in the US today. These FDA approved injectable treatments are designed to mitigate the effect of mild to moderate wrinkles and fine lines in areas such as the forehead, between the brows, and crow's feet around the eyes.
Patients can choose either Botox or Dysport as a quick and safe in-office procedure to get rid of unwanted aging lines for three to four months with a single treatment.
CoolSculpting and CoolMini
CoolSculpting is an FDA cleared procedure aimed at permanent eliminated of unwanted fat pockets from specific areas of the body. People who are bothered by the appearance of stubborn fat tissue deposits in the neck and face can achieve a slimmer and more sculpted look with CoolSculpting.
CoolMini is another FDA cleared innovative device from the makers of CoolSculpting. CoolMini makes use of the same cooling principle as CoolSculpting, but the applicator in this case is designed to address fat tissue in hard to reach areas such as the submental area below the chin. Candidates with a double chin can use CoolMini for effective results.
Ultherapy
This unique ultrasound based skin enhancement procedure is completely non-invasive and can create dramatic outcomes. Ultherapy will firm up sagging skin in the neck, face and other areas. Production of new collagen due to ultrasound energy exposure helps the patient achieve longer lasting skin renewal from within.
Microneedling
Dr. Q's med spa makes use of the cutting edge Eclipse MicroPen microneedling technology. The MicroPen device involves 12 sterile needle tips that will create tiny punctures in the targeted areas of the skin to trigger the body's self-repair mechanism. Skin volumizing occurs from within, and wrinkles and fine lines from the top surface are minimized or removed.
PicoWay Resolve
PicoWay Resolve is state of the art laser system aimed at improving the effects of pigmentation. The system has also now earned clearance from the FDA for the elimination of fine lines and wrinkles from the face. Compared to traditional laser procedures, PicoWay produces smoother and more targeted outcomes in a minimally invasive way.
Laser Neck Skin Resurfacing
CO2 lasers can resurface the neck skin to minimize aging effects and create a rejuvenated neck appearance. The innovative CO2 RE laser system at the respectable and sunny Dr. Q's med spa provides safe and predictable results for neck skin resurfacing. Dr. Q receives patients from Palm Springs, Palm Desert, Rancho Mirage, and other towns and communities in this region of SoCal.

For more information on Plastic Surgery and Non-Surgical Medical Spa Procedures and Treatments in the Rancho Mirage, Palm Springs, Palm Desert and surrounding areas please contact the offices of Board Certified Plastic Surgeon Dr. Suzanne Quardt (Dr. Q) by clicking here or calling 760-324-2660.